Gain your acetylene-oxygen, plasma and electric torch cutting qualifications
Zapraszamy na nasze kursy, gdzie nauczysz się cięcia palnikami termicznymi, powszechnie stosowanymi do wszelkiego rodzaju metali.
Nasz kadra pracownicza może pochwalić się wieloletnim doświadczeniem tak w zakresie spawania, jak i nauczania tej techniki.
Prowadzimy szkolenia otwarte i zamknięte na terenie całego kraju. Wybierając nasze szkolenie możesz być pewny zdobycia merytorycznej wiedzy niezbędnej do zdania egzaminu oraz przyszłej pracy na stanowisku spawacza.
Rodzaje cięć palnikami: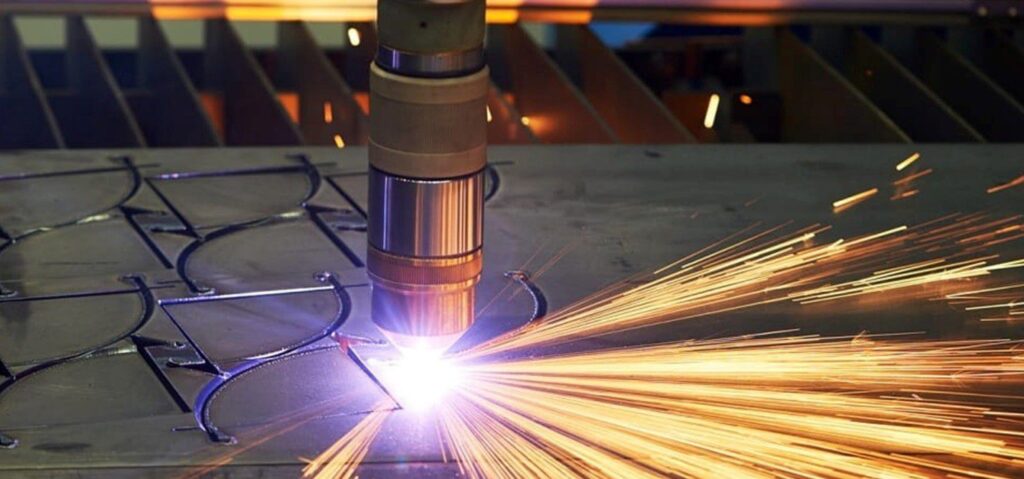 Znane jako cięcie tlenowe lub gazowe. Używane najczęściej do stali niestopowych oraz niskostopowych, gdzie jest potrzeba cięcia grubszych materiałów. Fundament wszelkich prac, gdzie mamy do czynienia z obróbką, cięciem i spawaniem metali, wszędzie tam, gdzie niezbędna jest precyzja.
Metoda cięcia metalu, która opiera się na jego topieniu i usuwaniu ze szczeliny cięcia. Proces ten odbywa się przy pomocy plazmowego łuku elektrycznego, który działa dzięki dużej energii kinetycznej. Używane głównie do cięcia materiałów przewodzących jak np. aluminium czy stal nierdzewna.
Cięcie plazmowe możemy podzielić na:
Ukosowanie – gdzie palnik umieszczany jest pod odpowiednim kątem nad elementem ciętym.
Podstawowe – klasyczne obrabianie elementu od jego krawędzi.
Szablonowe – gdzie korzystamy z przygotowanego wcześniej wzoru.
Żłobienie – ustawiamy tu palnik pod kątem, dzięki czemu podczas cięcia tworzą się regularne wyżłobienia.
Zmechanizowane – z użyciem maszyn CNC i robotów przemysłowych. Jest to najbezpieczniejszy sposób oraz pozwala on na mniejsze zużycie palnika i czasu.
Przy tej metodzie uzyskujemy powierzchnię cięcia o wyższej jakości oraz większą wydajność pracy, jak porównamy z cięciem ręcznym. Efekt ten daje użycie tlenu do cięcia konstrukcyjnej stali węglowej i niskostopowej. Stosowane głównie do cięcia maszyn i elementów konstrukcji.
Conditions of entry to training:
at least 18 years of age,
minimum primary education,
zaświadczenie lekarskie o brak przeciwwskazań do pracy na stanowisku.
Opórcz zajęć teoretycznych, odbędziesz też ćwiczenia praktyczne przygotowujące do zawodu. Całość zakończy się egzaminem, którego pozytywny wynik pozwala na zdobycie certyfikatu.
Czego uczymy?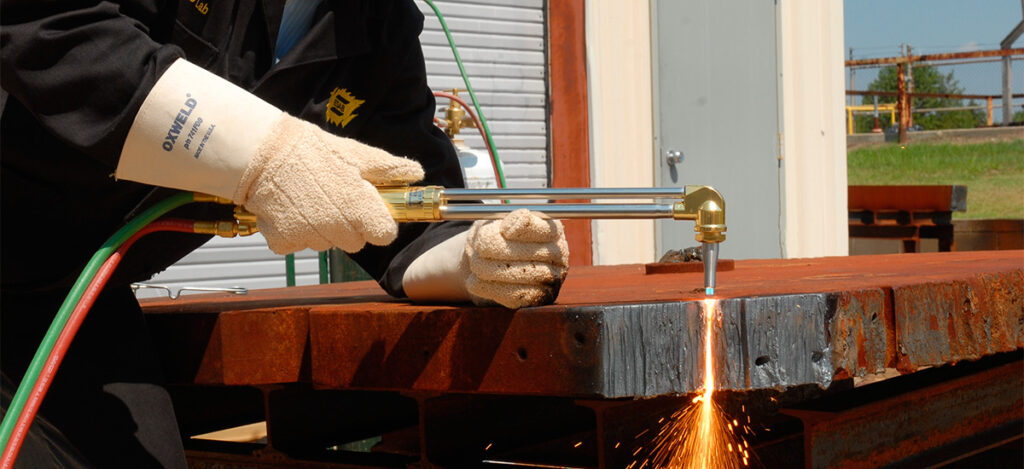 Na szkoleniu poruszamy zagadnienia, tj.:
budowa palnika gazowego,
jak poprawnie ustawić palnik,
zastosowanie gazu używanego do cięcia,
właściwa kolejność odpalania palnika,
poprawne gaszenie palnika,
ustawienie ciśnienia do cięcia,
w jaki sposób równo ciąć materiał i wycinać trudniejsze elementy,
ocena jakości powierzchni po cięciu,
co istotne, dowiesz się też dlaczego palnik podczas cięcia "strzela" i jak można temu zapobiec
przepisy BHP.
Dla kogo jest nasze szkolenie?
Dla każdego, kto chce zdobyć niezbędną wiedzę i umiejętności do pracy, a zwłaszcza dla:
osób pracujących przy spawaniu oraz z przecinaczami gazowymi,
osób pracujących w zawodach pokrewnych: ślusarz, mechanik.
Osoba, która zdobędzie uprawnienia do pracy z palnikami może później pracować w miejscach zajmujących się recyklingiem, przy produkcji konstrukcji stalowych, w stoczniach, hutach i w każdym miejscu, które zajmuje się obróbką metali.
Gdzie odbywają się nasze szkolenia?
Nasza firma mieści się w Warszawie, jednak szkolimy w całej Polsce, a na życzenie klienta dojedziemy w każde miejsce. Możesz odbyć kurs we wskazanym przez nas w harmonogramie kursów miejscu lub zamówić go w swojej placówce.
Questions and Answers
Jakie metale można ciąć palnikiem gazowym?

Cięcie gazowe lub też tlenowe jest używane do grubszych metali niestopowych oraz niskostopowych. Przydaje się ono tam, gdzie niezbędna jest precyzja.
Who is the training for?

Dla każdego, kto chce pracować przy spawaniu, z przecinaczami gazowymi oraz dla zawodów pokrewnych jak ślusarz czy mechanik.
Czy na szkoleniu poznam sposoby cięcia?

Nasz ośrodek szkoli z trzech metod cięcia palnikami. Zanim wybierzesz kurs poznasz techniki i wybierzesz najlepszą dla siebie i Twoich potrzeb.
More information: