Fire protection services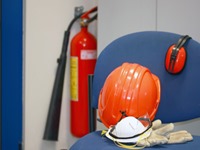 We offer professional health and safety services and Firewhich are focused on comprehensive assistance to companies. For years, fire protection has been our specialty - over 20 years of experience, thanks to which we can now provide each of our clients with professional support!
We provide a wide range of services, including:
safety training and fire protection
marking and fire protection of buildings
preparation of documents - fire safety instruction (fire protection instruction, general fire instruction)
specialist services - fire protection appraiser, fire protection inspector
comprehensive consultancy
fire audits of companies
preparation of facilities for collection by the State Fire Service
inspections, maintenance and repair of fire extinguishers, devices and signaling installations
and other fire services
A qualified fire protection appraiser is responsible for all opinions, analyzes and expert opinions. We employ and cooperate with competent specialists in this field, and their extensive knowledge and qualifications, as well as professional experience are a guarantee of correctly performed services for your company.
Fire protection inspector - from January 18, 2009, the employer is obliged to appoint an employee who will perform the duties as a fire protection inspector. The fire protection inspector is responsible for carrying out activities in the field of fire protection and evacuation. This even applies to employers with one employee.
Fire safety instruction - in accordance with the Regulation of the Minister of Interior and Administration of June 7, 2010 on fire protection of buildings, other structures and areas (Journal of Laws No. 109, item 719) § 6.1 fire instructions must be prepared for each object or parts constituting separate zones - for public utility buildings, collective housing, storage and production buildings with a cubic capacity of at least 1000 cubic meters, as well as for those with a risk of explosion. We remind you that the general fire instructions must be updated every 2 years, as well as after each change in the use of the building or processes that modify the fire protection conditions.
Fire protection of buildings - all buildings designed and existing in terms of their construction, as well as location and installation must comply with fire protection regulations. Fire protection integrates systems and active fire protection measures to be used in buildings. Fire protection includes fire extinguishers, designated escape routes, smoke detectors and sprinklers. It also applies to the structure and materials used in the facility.
OHS and fire protection training - in accordance with the law, an employee of the company designated as a fire protection inspector must be properly trained. Introductory training for newly hired employees is conducted, as well as basic and specialist training, thanks to which you can acquire the necessary knowledge and skills.
We provide comprehensive fire protection services that are selected individually to the needs of our clients. We provide services in Warsaw, Masovian Voivodeship and all over Poland according to your wishes. We make every effort to ensure that you can obtain professional support in this field. At the same time, we are distinguished by attractive service prices. By choosing our service, you can be sure that it will always be provided at the highest level.
More information: