First aid - recipes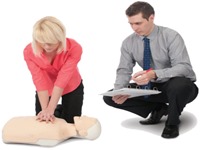 First aid from the legal side is regulated by relevant provisions, including the Labor Code, the Penal Code, as well as regulations and laws. They define the requirements for employers, vehicle drivers, teachers, and anyone who sees a person in a position that may be at risk of serious damage to health or loss of life.
Obligation to provide first aid
The regulations indicate that in the event of failure to provide first aid to a person who is in a direct threat of loss of life or serious damage to health, a person may be exposed to imprisonment for up to 3 years.
Employer's obligations in the workplace
According to the regulations, the employer is obliged to provide his employees with appropriate hygiene measures, sanitary and hygienic devices, as well as resources intended to provide assistance in the event of an accident. Each workplace must be equipped with a first aid kit. The first aid kit must contain products depending on the nature of the work and the number of people in the workplace. The employer is also obliged to train one person in the presented scope and appoint an employee who will provide first aid.
Legal basis:
Labor Code - the act amending the act of November 21, 2008 (Journal of Laws No. 223, item 1460), Art. 2091
Regulation of the Minister of Labor and Social Policy of September 26, 1997 on general provisions on health and safety at work (Journal of Laws of 2003, No. 169, item 1650, as amended)
The Act of June 6, 1997 - Penal Code, Art. 26 and 162
The Road Traffic Act
Act of September 8, 2006 on the State Medical Rescue
More information: