A course on scissor lifts preparing for the UDT exam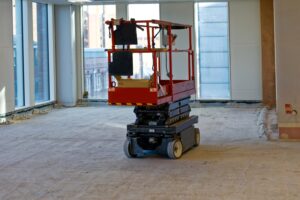 Scissor lifts, like all devices covered by technical inspection, may only be operated by persons with appropriate qualifications. In Poland, the process of checking qualifications is dealt with, among others, by the Office of Technical Inspection - confirmation of qualifications issued by this institution allows you to work on the so-called increases in the country and abroad, provided that in a given country it is possible to recognize Polish entitlements. The course organized by the Center is a way to effectively prepare for the exam. Its scope includes not only learning how to use devices, but also knowledge about the construction, operation rules, and technical supervision. This information is useful both for people who have not dealt with the operator's work before, and for those who use scissor lifts on a daily basis. The results of the surveys carried out among the participants show that even people with extensive practical experience confirm that they received a great added value in terms of safe operation of the platforms.
Details of the lifts course
Duration of the course: determined individually based on the study of training needs of the participants. For people with no experience - about 20 to 36 training hours (theory and practice).
Form of classes: onsite or online (for those without experience, practical classes before the UDT exam are required). Training can be open - at the time and place specified on the Centre's website, or closed - only for employees designated by the client.
Price: determined individually with candidates for lifting operators. The price depends on the duration of the course, its form, and additional services.
Course of classes: the program is strictly adapted to the UDT examination requirements. The issues discussed during the training concern, among others: general information about scissor lifts, construction of the working platform and chassis, stability and durability of devices, rules of safe operation, technical supervision
Course and UDT exam
Completing the training is not tantamount to acquiring professional qualifications. To obtain the qualifications, a positive result of the examination organized by UDT is necessary. The dates of open trainings organized by the Center are agreed so that the waiting time for the exam in a given UDT branch is as short as possible, as far as possible by the Commission. Also in the case of closed training for companies, if they can be scheduled well in advance, the time from completing the training to taking the exam may be scheduled for the next working day.
Work after a course on a scissor lift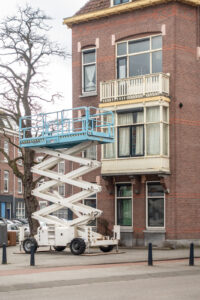 The training program has been created for people who want to work as a lift operator on an independent position or develop their own business by providing rental services.
Being authorized to handle increases offers many employment opportunities:
As a team worker in construction and renovation companies
As an assembler or installer in energy companies, in lighting services
In high bay warehouses
In advertising companies specializing in large-format advertising
In specialized companies offering cleaning of glass office buildings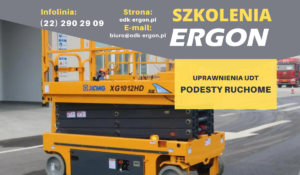 More information: