Crane operator - requirements
Crane operator - requirements
Overhead cranes are used, among others, in industrial halls, sidings, storage yards and shipyard slipways. People working with cranes must meet certain requirements. The employer may not allow an employee to work without the required qualifications and skills.
A person who wants to work as a crane operator must enroll in a crane course. In order to enroll in the classes, you must meet the relevant requirements, the fulfillment of which is also needed in the crane profession.
Requirements for enrolling in a crane course:
18 years of age or older
education to the least basic
no contraindications to work as a crane operator confirmed by an appropriate medical certificate
Operators should have the relevant qualifications confirmed by a qualification certificate from the Office of Technical Inspection. The qualifications can be obtained after passing the UDT training exam for cranes.
There are two categories of crane licenses according to UDT:
II S. - cranes, hoists and winches operated from the working level and stationary workshop cranes
IS - cranes, hoists and winches operated from the working level or from the cabin, and stationary workshop cranes
The crane operator should also meet other requirements depending on the company he or she will be employed by. Among other things, the employee should have knowledge of the applicable regulations, be familiar with the operation of safety equipment, and should have received health and safety training in terms of general health and safety instruction and position instruction.
The ERGON Kadr Training Center invites you to a crane course - the price and dates of classes and locations are available on our website. We conduct classes in the city of Warsaw and in other locations. We guarantee comprehensive service, high pass rate and low prices. Please contact us if you have any additional questions.
More information: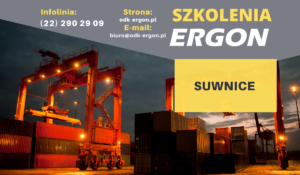 More information: