Health and safety services
Offer ERGON Center
Our health and safety inspector will comprehensively take care of health and safety in your company. At ODK ERGON, OHS services include the following works: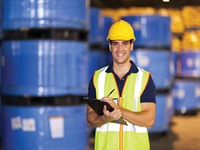 The ERGON Kadr Training Center is a comprehensive health and safety service for companies. Our main goal is to provide support to our clients, always in accordance with the latest legal regulations, at affordable prices and in a reliable, timely and professional manner. You cannot save on safety, because it is responsible for the proper operation of the entire enterprise - that is why it is so important to develop appropriate instructions and training employees to ensure that all activities are carried out in accordance with the recommendations and reduce the risk of accidents at work. Our health and safety specialist will help you to ensure safety and work hygiene in the company. Now, in accordance with the regulations of the European Union, employers are obliged to provide their employees, and also themselves, with the appropriate preparation to take up work in each position. However, not only do we conduct initial and periodic training, but also our offer includes a full range of occupational health and safety activities that are required of entrepreneurs. Our employees have all the necessary health and safety qualifications, thanks to which they can provide a full range of services. We also meet all the requirements of the Work Safety Consulting Department.
Comprehensive solutions
We have over 20 years of experience in the OHS industry in Warsaw. As a health and safety company, we initially offered advisory and supervisory services, then expanded them to include training services. Now we provide our clients with full assistance, always individually tailored. We operate as OHS outsourcing - we provide services as a subcontractor, i.e. an external company. As a result, our clients do not have to employ their own employees who are responsible for occupational health and safety issues in the company.
Individually selected service at affordable prices
We do not operate like other health and safety companies, but we focus on precisely and individually tailored solutions, and the wide range of our services allows us to provide them with full support to virtually every enterprise, regardless of its nature of activity.
At the same time, our services are distinguished by an attractive price. We do not use rigid price lists for services, and for each client we prepare a special service quote in accordance with his wishes. When choosing our service, you do not have to overpay - as an outsourcing company, we are always available when needed, but at the same time our services are not associated with such high costs as employing our own employees who would work in this area.
We provide services mainly in Warsaw, where the headquarters of ODK ERGON is located, but we are also able to reach you throughout the Masovian Voivodeship and Poland. We are a flexible company, adapted to the expectations and needs of customers, which is why cooperation with us is always successful, as evidenced by our positive references and the constantly growing number of customers. If you have any questions related to our services, please contact us via the contact form via e-mail or by phone. We will try to answer them as soon as possible.
ERGON Personnel Training Center - OHS services Warsaw - we encourage you to use our services!
More information: