Transportable platforms - a course preparing to obtain UDT qualifications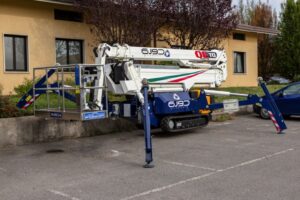 Having professional qualifications to operate handling equipment - mobile platforms is required by the provisions of the Office of Technical Inspection. These qualifications are acquired through an examination consisting of a test and a practical part. For people who think about working with these popular devices, we offer training that will prepare them for the exam from the theoretical and practical side. The program and organization of the course have been designed to ensure the greatest possible effectiveness in passing the state examination.
Mobile work platforms: transportable - information
It is a type of mobile platforms commonly used in construction, assembly and renovation works. Several factors determine the popularity of mobile platforms (so-called spiders). First of all, these devices are valued due to their small size and weight - their platforms are relatively narrow, which allows them to reach places where larger devices are difficult to reach. These features allow the use of "spider" platforms also inside buildings, for example during renovation works, painting walls and ceilings, conservation of monuments. At the same time, they are equipped with either large rubber wheels or caterpillars, which makes it easier to work on difficult terrain with a steep slope. Despite its small size, the working height of the platform is quite large, even up to several dozen meters.
"Spiders" are used, inter alia, for:
Installation of elements outside buildings: roofs, gutters, balcony railings
Assembly of elements of mast, tower and bridge structures
Conducting inspections of buildings and structures
Renovation and maintenance work in buildings - inside and out
Repair lighting, power lines, telephone lines
Cleaning work, snow removal, pruning branches
Installation and repair of electrical, fire and ventilation installations in large buildings: factories, warehouses, public utility buildings
Installation of large-format advertisements, e.g. billboards
Spiders mobile platforms - service course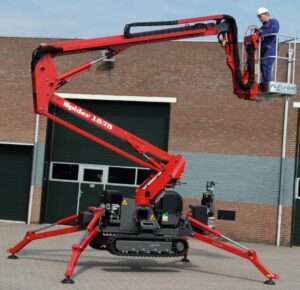 The course for operators of spider-type mobile platforms is a preparation for the state examination, conducted by the UDT. Training courses have a programme developed in agreement with the Office, coinciding with the examination requirements. At the end of the classes, an examination before the UDT commission takes place, conducted in cooperation with the Centre (setting of dates, enrolment of participants).
We organize open trainings at various levels of advancement. Dates and locations (Warsaw and other large cities) are regularly published on our website. Classes are held during the week and at weekends, at various times, so as to facilitate the acquisition of knowledge also by working people
We offer employers the organization of closed training courses, only for the company's employees. With such trainings, the scope and number of hours are adjusted to the client. We plan courses from scratch or for people with experience
Form of classes: stationary or online lectures (webinars) and practical exercises. Participants will learn the regulations on the operation of devices, health and safety rules regarding operation, construction of platform elements, and then have the opportunity to practice the acquired skills in practice on the maneuvering yard
In order to better prepare participants for the exam, we check the participants' knowledge several times during the course, and we conduct our own placement test before the external exam. Participants of the mobile platform operator course can additionally learn on their own using our educational platform, where we publish, among others, sample exam questions
The qualifications obtained after the course on mobile platforms allow you to work all over Poland. They may also be valid abroad (check the regulations in force in a given country before departure).
If you have additional questions about mobile platform courses (price, program, organizational issues), we encourage you to read the information on the website FAQ.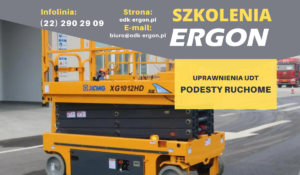 More information: