Basic crane structures
Types of cranes
Cranes are devices classified as cranes, i.e. they are designed for vertical and horizontal movement of loads. Due to their design, the cranes enable the movement of loads by lifting and lowering them within the space defined by the structure and the track.
There are three main types of cranes:
bridge (road)
gantry
suspended
Gantry cranes differ in their design and place of assembly. They are most often used in industrial halls, landfills, railway sidings and shipyards. Depending on the type of the crane, the operator can operate it from the ground level or from the operator's cabin. The control can be wired or wireless.
Overhead crane
The overhead crane, which is also referred to as a track crane, is primarily used in industrial halls. The overhead crane consists of a truss bridge on rails on which the tractor moves (lifting device used to move loads).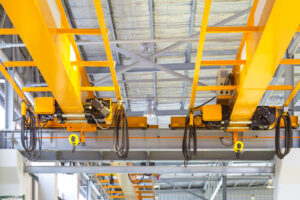 Gantry crane
Gantry cranes - also referred to as gantry cranes, are found primarily outside. They have large dimensions and are used to carry large loads. They consist of a platform suspended on side bridges and may have two or more gates. In the case of gantry cranes, the gates can be circular or rail-mounted. As with other types of equipment, there is a crane on the gantry deck.
Suspended crane
Suspended cranes are intended for installation under the roof structure. They take up less space and allow optimal use of the height of the rooms. Modern suspension cranes usually have a modular structure.
We would like to invite you to take part in our overhead crane training courses at our ERGON Personnel Training Center! We conduct classes in the city of Warsaw and other places in Poland. We encourage you to sign up for a course on cranes. price, dates and locations are available on our website. If you have any questions, please contact us.
More information: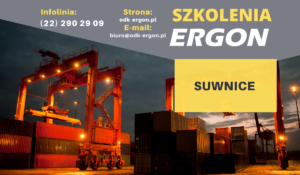 More information: