Fall Protection Course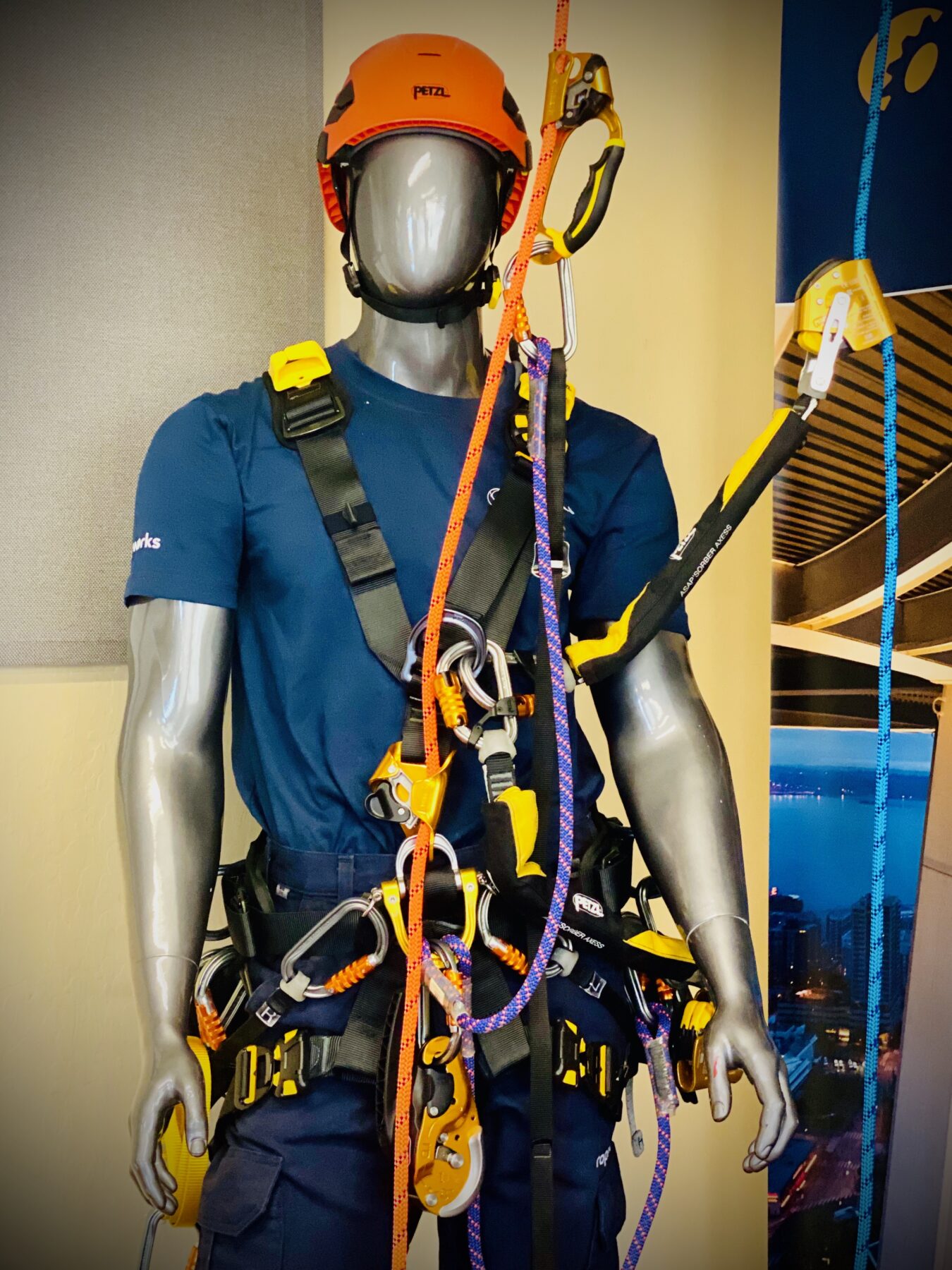 ODK ERGON zaprasza zainteresowanych do zapisu na kurs z ochrony przed upadkiem, czyli obsługi prawidłowego użycia szelek bezpieczeństwa. Sprzęt ochrony indywidualnej powinien być wykorzystywany tylko przez przeszkolone do tego osoby. Szkolenie obejmuje wiedzę teoretyczną oraz praktyczną, zdobycie jej umożliwi Ci bezpieczną pracę na wysokości oraz pomoże zmniejszyć ryzyko wypadku w czasie pracy.
Knowledge gained during the training
W czasie kursu zostaniesz kompleksowo przygotowany do prawidłowego użytkowania sprzętu chroniącego przed upadkiem z wysokości oraz poprawnego prowadzenia dokumentacji sprzętu. Szkolenie podzielone jest na część teoretyczną oraz praktyczną.
Program szkolenia porusza następujące zagadnienia:
legal bases and regulations for work at heights,
regulations and standards for the components of personal fall protection equipment,
występujące zagrożenia i ocena ryzyka,
characteristics and types of safety harness components,
proper selection of equipment for the type of work performed,
the most common damage to protective equipment,
proceeding in emergency situations,
wypełnianie karty użytkowania.
In the practical part:
you will learn methods of securing yourself,
you will learn how to properly adjust and use the harness,
you will learn about fall arrest systems,
you will learn how to move with the help of fixed anchors,
you will learn about the methods of evacuation from heights.
After completing the training, participants will have theoretical knowledge and practical skills needed to use various fall protection, positioning and restraining equipment. A key element of this training is the large amount of hands-on exercises.
Purpose of the course
Szkolenie oferowane przez ERGON ma na celu przygotowanie pracowników do bezpiecznej pracy na wysokościach z użyciem szelek bezpieczeństwa. Kurs skutecznie przygotowuje do zastosowania zdobytej wiedzy oraz umiejętności w sytuacjach podczas wykonywania prac na wysokości.
Prerequisites needed to start the course
The training may be attended by a person who:
is over the age of 18,
posiada minimum podstawowe wykształcenie,
posiada ważne zaświadczenie lekarskie o możliwości wykonywania prac na wysokości powyżej 3 metrów.
What activities are included in the work at height?
Każde zajęcie, które wykonywane jest przez pracownika na powierzchni znajdującej się na wysokości powyżej 1 metra nad poziomem ziemi zaliczamy do prac wysokościowych. Do obowiązków pracodawcy należy zapewnienie bezpośredniego nadzoru nad tymi pracami oraz zagwarantowanie środków bezpieczeństwa, takich jak szelki bezpieczeństwa. Do prac wykonywanych na wysokości możemy zaliczyć:
construction or demolition of buildings,
performing insulation or renovation of the facade,
activities carried out on the roof,
works during the construction and renovation of bridges, flyovers, etc.,
operations on silos and tanks,
cleaning and washing windows of tall buildings,
tree care and felling.
When working on all types of scaffolding, ramps, poles, high platforms or roofs, first of all, take care of your safety. Particularly dangerous works can also include works carried out on wind turbines or in vertical suspension.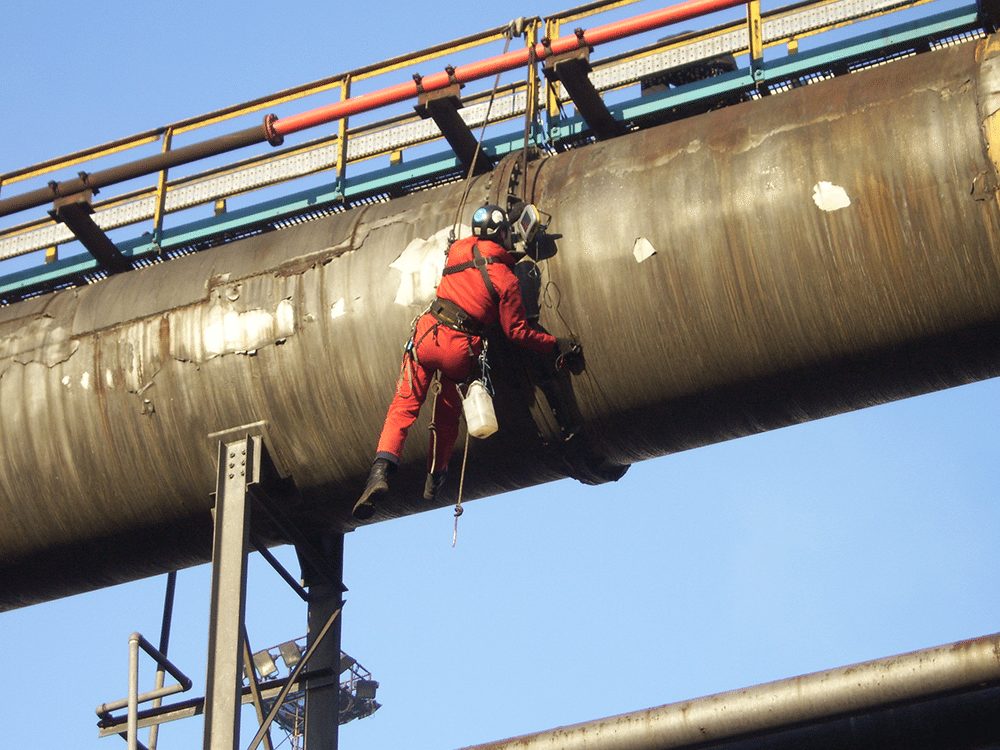 What regulations regulate the use of personal protective equipment?
Safety harness should be used according to the standards specified in the regulations:
PN-EN 358 – Indywidualny sprzęt ochronny ustalający pozycję podczas pracy i zapobiegający upadkom z wysokości – Pasy ustalające pozycję podczas pracy i ograniczające przemieszczanie oraz linki ustalające pozycję podczas prac. 
PN-EN 361 - Personal protective equipment against falls from a height - Safety harnesses.
PN-EN 363 – Środki ochrony indywidualnej chroniące przed upadkiem z wysokości. Według tej normy szelki bezpieczeństwa są jedynym zabezpieczeniem, chroniącym przed upadkiem z wysokości zakładanym przez pracownika bezpośrednio na siebie.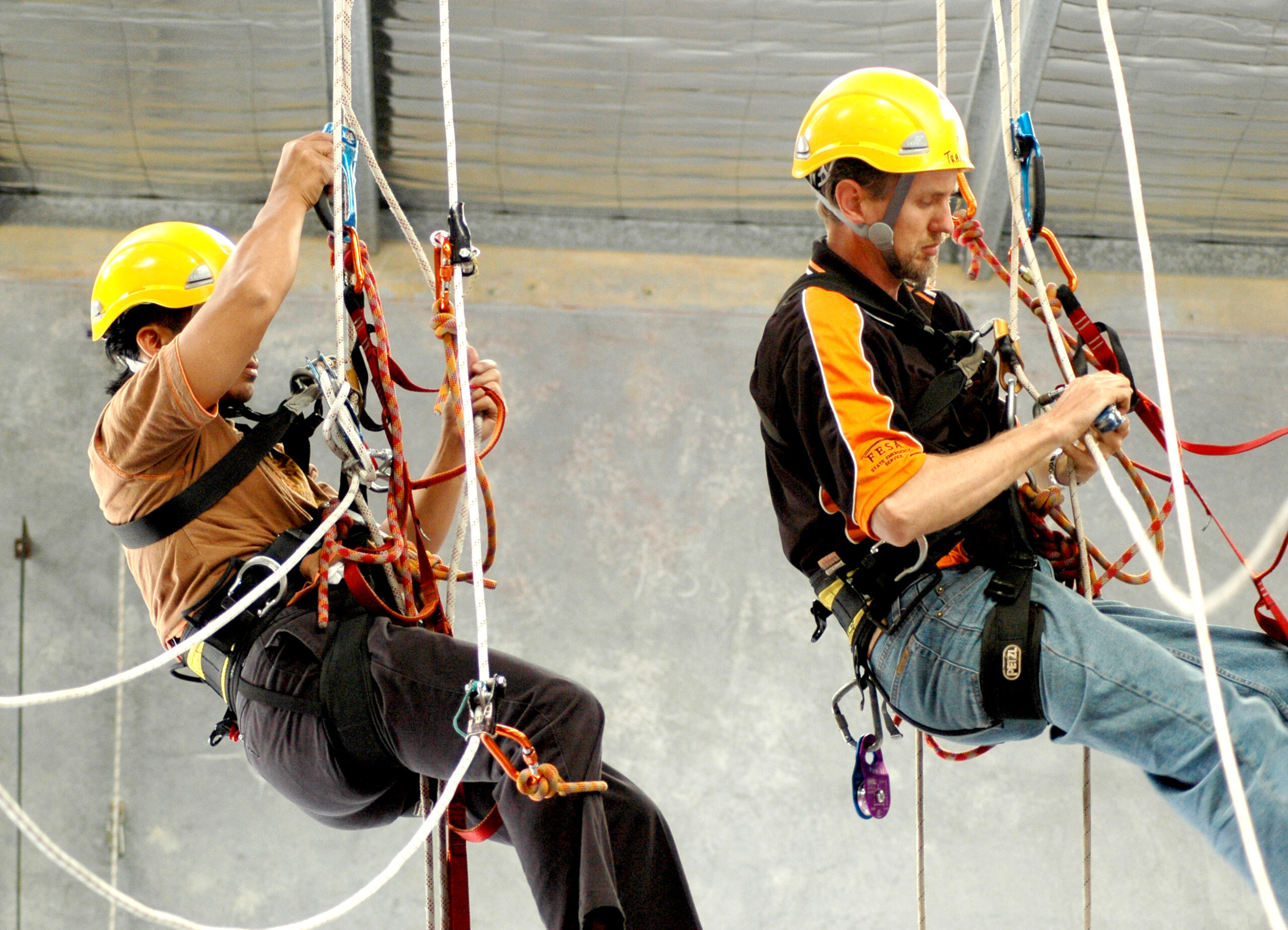 When should an employee wear a harness?
Zasady stosowania szelek bezpieczeństwa, reguluje Rozporządzenie Ministra Pracy i Polityki Socjalnej z dnia 26 września 1997 roku. Rozporządzenie to stanowi, że szelki należy stosować podczas tzw. prac na wysokości, czyli działań wykonywanych na powierzchni znajdującej się na wysokości co najmniej 1 metra nad poziomem ziemi.
Characteristics of the safety harness
Safety harnesses used for work at height are sections of polyamide tapes connected to each other, which are properly sewn together and connected with metal buckles. They can have additional equipment, it depends on their adaptation to specific works. The more complex and professional models are equipped with a front attachment buckle at the height of the chest, which adjusts to the elements of the vertical belay.
High-altitude equipment control
As the height harness and its accessories can save lives, the condition of the safety harness should be checked regularly. Once a year, after 12 months of use, the harness must be withdrawn from use to carry out a thorough inspection of its condition.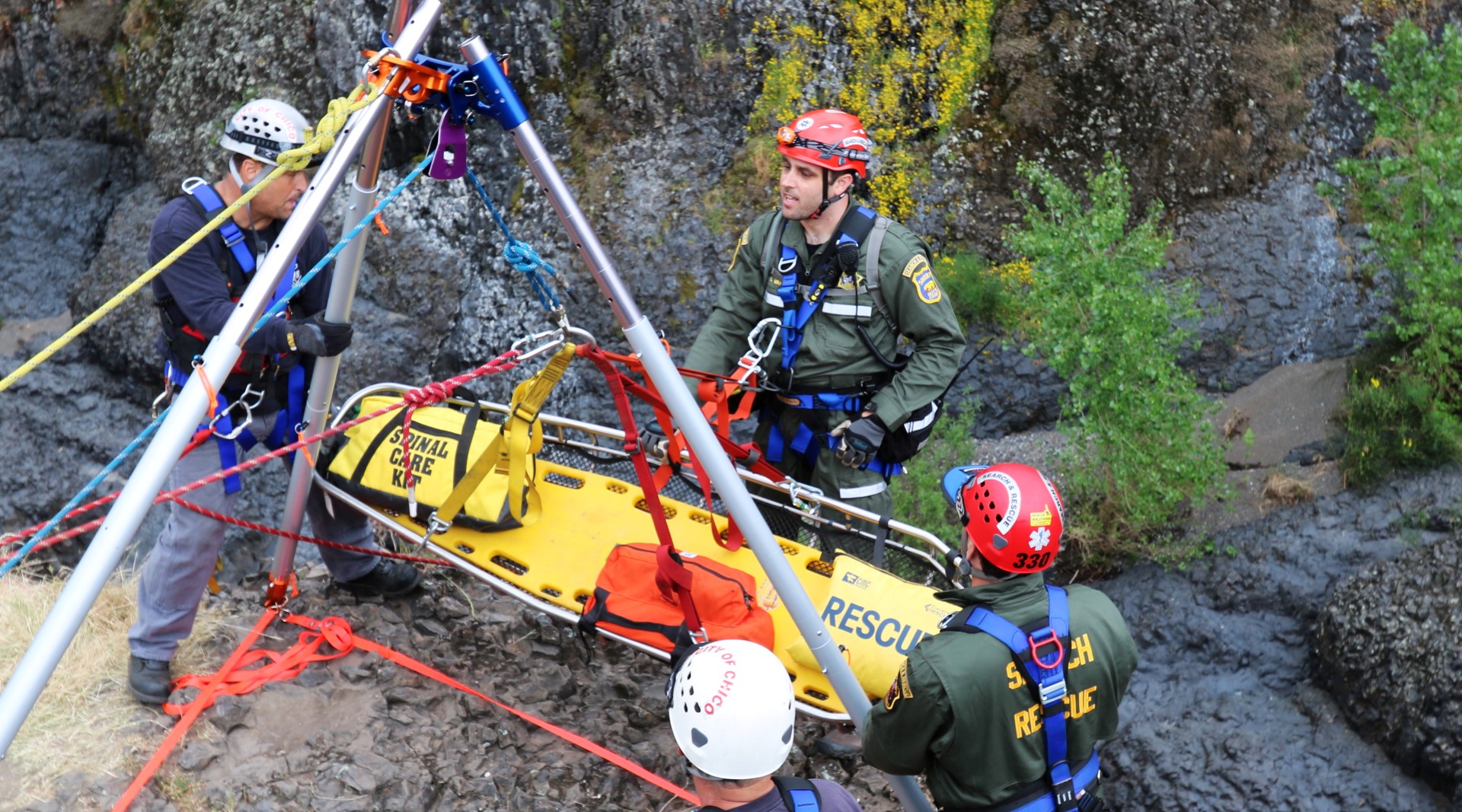 Price
W celu uzyskania szczegółowych informacji o cenach prosimy o sprawdzenie cennika lub skontaktowanie się z nami telefonicznie.
Why is it worth training with ERGON?
Ukończenie organizowanego przez nas szkolenia pozwala zdobyć niezbędną wiedzę i umiejętności z zakresu prac szczególnie niebezpiecznych. Oferowany przez nas kurs skierowany jest do wszystkich firm wykonujących prace na wysokości oraz osób indywidualnych, które pracują w tej branży. W trakcie szkolenia stawiamy na kompleksowe podnoszenie kwalifikacji naszych kursantów. W razie jakichkolwiek pytań dotyczących naszej oferty prosimy o kontakt. Zachęcamy do skorzystania z naszych usług! Zespół ODK ERGON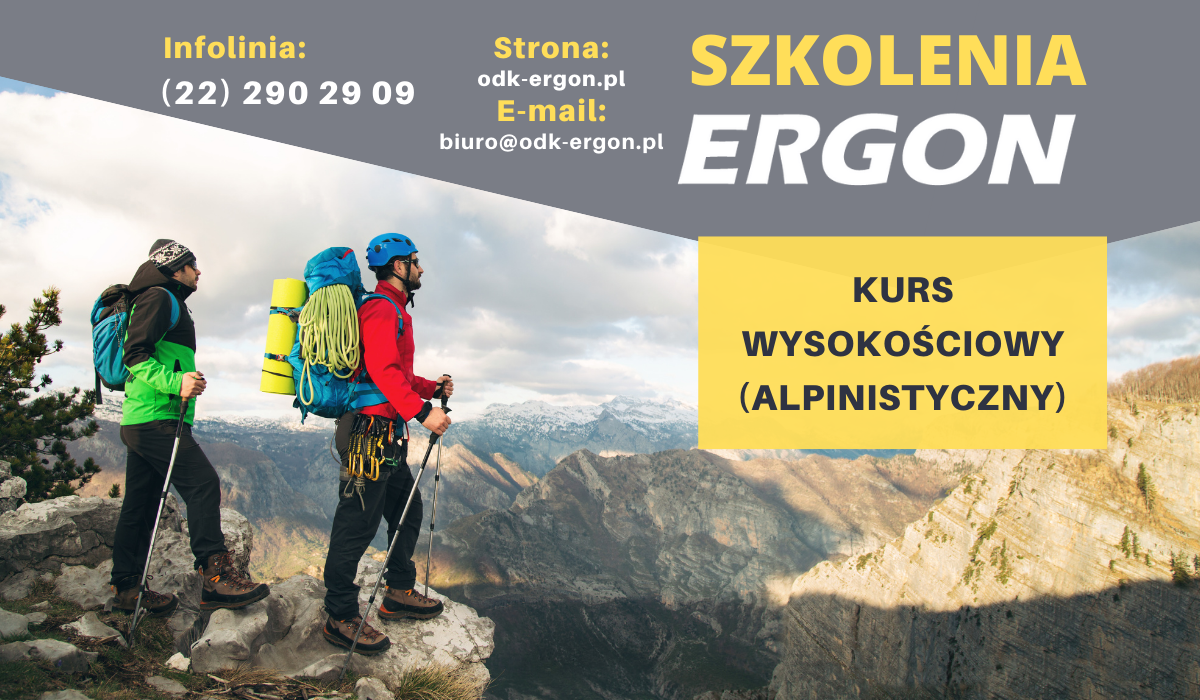 More information: