Fire specialist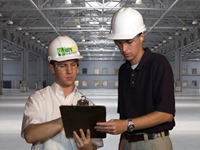 In accordance with the provisions of the Act on Fire Protection, activities included in the protection Fire in buildings, constructions and grounds must be run by persons who have appropriate qualifications for this purpose. They are inspectors or specialists whose powers vary.
The specialist has more extensive powers, because the work can be carried out not only in a given workplace, but in a wider area. During the training of the fire specialist, among others, the following information is presented:
organization of fire protection, obligations of both natural and legal persons, institutions and organizations that use facilities, buildings or areas
fire protection rules
recognizing and assessing threats
fire requirements, including water supply and fire routes
measures used to combat fires, natural disasters and other threats
creating appropriate formal, legal and organizational conditions that are responsible for the safety of people and property, minimizing the effects and preventing threats
To become a fire protection specialist, you must complete training at the Main School of Fire Service. Persons with the title of fire engineer have the same rights under the law as a specialist. Due to the fact that the studies in this school are longer, the specialist has much more knowledge than the inspector and it is for this reason that his scope of activity is wider.
More information: