Training in rope access techniques.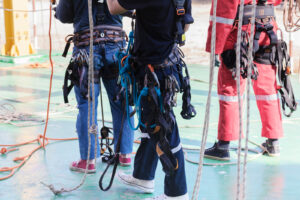 Mountaineering is not only about climbing mountains, peaks and often in tough conditions with accompanying danger. It is also a way of working professionally. Industrial mountaineering is work at height, often using rope access techniques. This includes hanging banners, clearing snow from roofs or cleaning windows in office buildings. These risky and difficult jobs require the climber to have very good motor coordination, physical fitness, precision and knowledge of climbing techniques.
Mountaineering training in rope access techniques
Tall structures and unusual designs mean that buildings cannot be handled with mechanised lifts and the work is carried out by expert climbers with rope access technology.
ERGON Personnel Training Center offers you professional mountaineering courses in rope access techniques. Our offer is aimed at people who want to work at heights in their chosen profession. During the training, in the theoretical part, the participant gets acquainted with the following material:
health and safety regulations and the obligations and rights of employees in relation thereto.
existing risks in working at height
acquaintance with the regulations and legal requirements regarding the safety of mountaineering work
main features of rope access
Adaptation, selection and use of accessories in rope access mountaineering
maintenance and inspection of mountaineering equipment
risk reduction methods
familiarisation with individual and collective protection measures
types of mountaineering work
learning to use the ropes
emergency procedures
familiarisation with documentation (including evacuation plan and work plan)
equipment characteristics
familiarise yourself with the concept of the power triangle
The practical part of our course includes:
fitting of personal protective equipment
variation and verification of anchor points
learning to use the equipment in practice
coiling, packaging and rope protection capabilities
tying knots
ascending and descending on a rope
lowering and extricating the victim from the apparatus
After completing the course and passing the examination, you will receive a certificate. The certificate is valid for 3 years.
Course objective: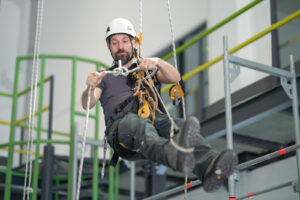 The aim of our course is to provide you with the knowledge, skills and also the qualifications to work safely at height using rope access techniques. Among other things, the candidate will know how to belay, ascend and descend the rope. After our training, it will not be a problem to take basic rescue action when an accident occurs and health or even life is at risk. 
Requirements for participation in our training courses:
The work of a mountaineer is not an easy job and certainly not everyone is suited to it. A person who wants to work as a mountaineer must meet several requirements:
be of legal age (at least 18 years old),
very good physical and mental condition,
should be able to withstand severe weather conditions,
be in good health and must not have any medical contraindications to mountaineering work. We are referring here to:

high blood pressure,
fainting or epilepsy,
limb injuries,
heart disease,
any chest pains,
balance disorders, vertigo or fear of heights,
diabetes and psychiatric disorders,
addictions to drugs or alcohol.
Training levels in ERGON
We offer three levels of rope access mountaineering courses for you at our centre.
Levels in rope access techniques
| Levels: | Course objective: | Requirements: |
| --- | --- | --- |
| Level 1 | The employee may carry out rope access work independently | At least 18 years of age and no health contraindications |
| Level 2 | In addition to carrying out rope access work, the employee may take part in rescue operations | Valid level 1 certificate and 1000 hours of experience |
| Level 3 | The person may also conduct rope access courses | Valid level 2 certificate and 1000 hours of experience |
About rope access techniques
Before the times of increasing demand for rope accessThis has its origins in work on oil rigs. Over time, however, the demand for rope access work has grown enormously. Now, rope access climbers are almost everywhere. For example, people servicing power lines, repairing telecoms antennas or chimneys, painting banners or cleaning windows in high-rise buildings.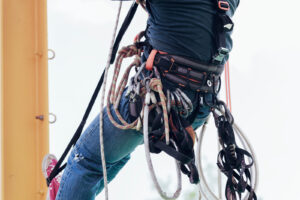 Operator Training Centre
The ERGON Personnel Development Centre has been on the market for 20 years. Our professionals and experts at the same time are people who do their work with passion, professionalism and, most importantly, know how to convey their knowledge to our clients in a reliable and understandable way. You can be sure that our training will prepare you very comprehensively for your future exam, which you will pass, and that the knowledge gained in our centre will stay with you for many years to come.
The prices of our course are competitive compared to other providers of similar training on the Polish market. Warsaw - the city where our head office is located. But not only the capital. We are also in other cities in the country such as Gdynia, Gdansk, Lodz, Krakow, Poznan and many others. We also have closed-door training at our clients' premises throughout Poland.
We invite you to visit the website and find out about the many interesting and necessary courses we have for you. ERGON provides training for many and various professional groups. Among other things, we have courses FireThe following courses are offered: fibre optics welding, high-altitude training, occupational health and safety, as well as a wide range of training courses, the completion of which (and the passing of an exam) will provide you with the necessary skills and knowledge to meet the needs of your business. UDT qualifications chosen profession.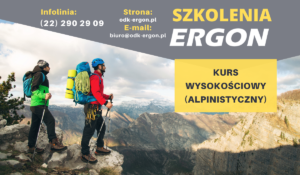 More information: