ERGON compressors service course
we invite you to ERGON Personnel Training Center na profesjonalny kurs eksploatacji sprężarek, dmuchaw, ssaw, kompresorów oraz instalacji sprężonego powietrza. Oferowane przez ERGON szkolenie poświęcone jest wszystkim aspektom użytkowania i dozoru sprężarek oraz innych tego rodzaju urządzeń. Nasi prowadzący dysponują odpowiednimi kwalifikacjami i stawiają szczególny nacisk na umiejętności praktyczne. Dzielimy się swoją wiedzą i doświadczeniem w zakresie technologii światłowodowych od ponad dwudziestu lat.

Class offer
Nasze szkolenie dedykowane jest dla osób, które chcą zapoznać się z podstawami obsługi sprężarek oraz dla tych, którzy pragną pogłębić zdobytą przez lata praktyczną wiedzę. Zapewniamy zapoznanie się z branżą od strony praktycznej. Kurs w ERGON gwarantuje:
familiarizing students with the construction of compressors, blowers, suction nozzles, compressors and compressed air installations;
preparing employees to work independently with devices of this type;
basic problems training for a given type of compressor;
familiarization with the most common faults.
Program szkolenia zakłada zdobycie wiedzy z zakresu urządzeń służących do automatycznej regulacji powietrza, metod regulacji wydajności sprężarek i najważniejszych parametrów sprężarek, dmuchaw i ssaw. Ponadto, kursanci uczą się wykonywania czynności związanych z uruchamianiem i zatrzymywaniem sprężarek różnego typu. Słuchacze zapoznają się także z aktami prawnymi dotyczącymi eksploatacji oraz dozoru.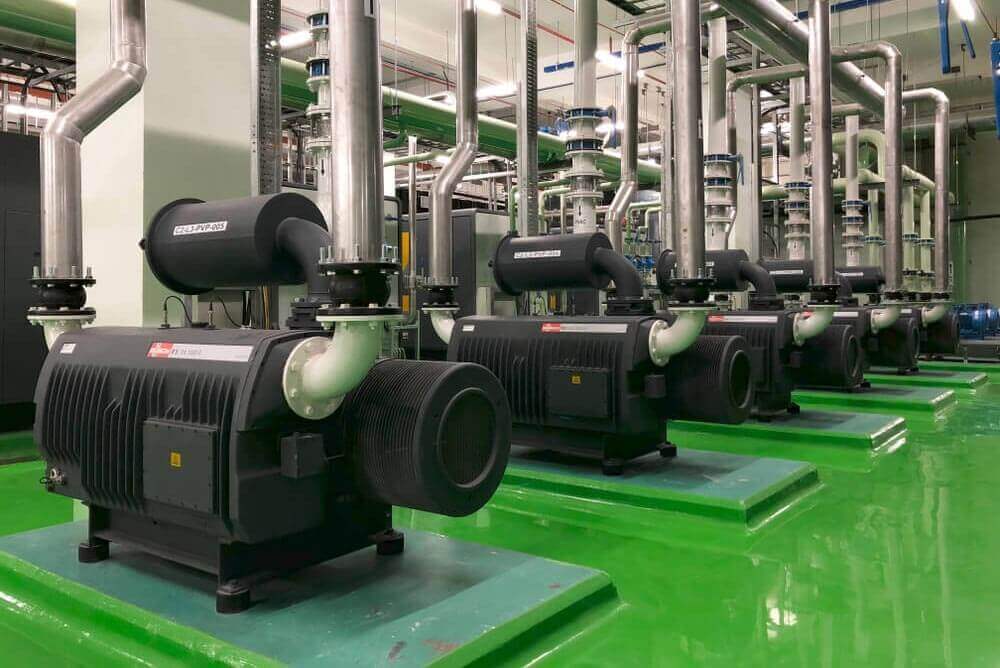 Qualifications gained
A positive result of the state examination enables the graduate of the training to:
zatrudnienie przy obsłudze, przeglądach i konserwacji pomp, sprężarek oraz instalacji sprężonego powietrza,
obtaining rights in the following categories:
"E" - operation of pumps, compressors and compressed air,
"D" - supervision over the operation of pumps and compressors.
Benefits of having a compressor license
Wiele narzędzi oraz maszyn budowlanych działa dzięki zastosowaniu powietrza o wysokim ciśnieniu. Używane w przemyśle urządzenia mają moc powyżej 20kW, a ich obsługa wymaga posiadania uprawnień wydawanych przez UDT. Podobnie sprawa ma się z obsługą instalacji sprężonego powietrza i gazów technicznych. Mimo że używanie pistoletu pneumatycznego nie jest obwarowane kwalifikacjami, to wymaga wiedzy z zakresu bezpieczeństwa. Skorzystanie z oferowanego przez ERGON szkolenia obsługi sprężarek ułatwi Ci poszukiwania pracy. Duże przedsiębiorstwa oraz zakłady korzystają z kompleksowych systemów połączonych z jednym lub dwoma zbiornikami ciśnieniowymi. Eksploatacja takiej sieci wymaga umiejętności oraz profesjonalnego przygotowania do pracy na tym stanowisku. Stały dopływ sprężonego powietrza bez zagrożenia wahaniami mocy w systemie sprawdza się zwłaszcza na liniach produkcyjnych. Kompresory spotykamy również w warsztatach samochodowych – wszędzie tam potrzebni są fachowcy posiadający odpowiednie kwalifikacje i umiejętności.
Exam 
The compressor course ends with an examination before the committee of the Office of Technical Inspection, and obtaining a positive result guarantees obtaining qualifications, which are valid for 5 years.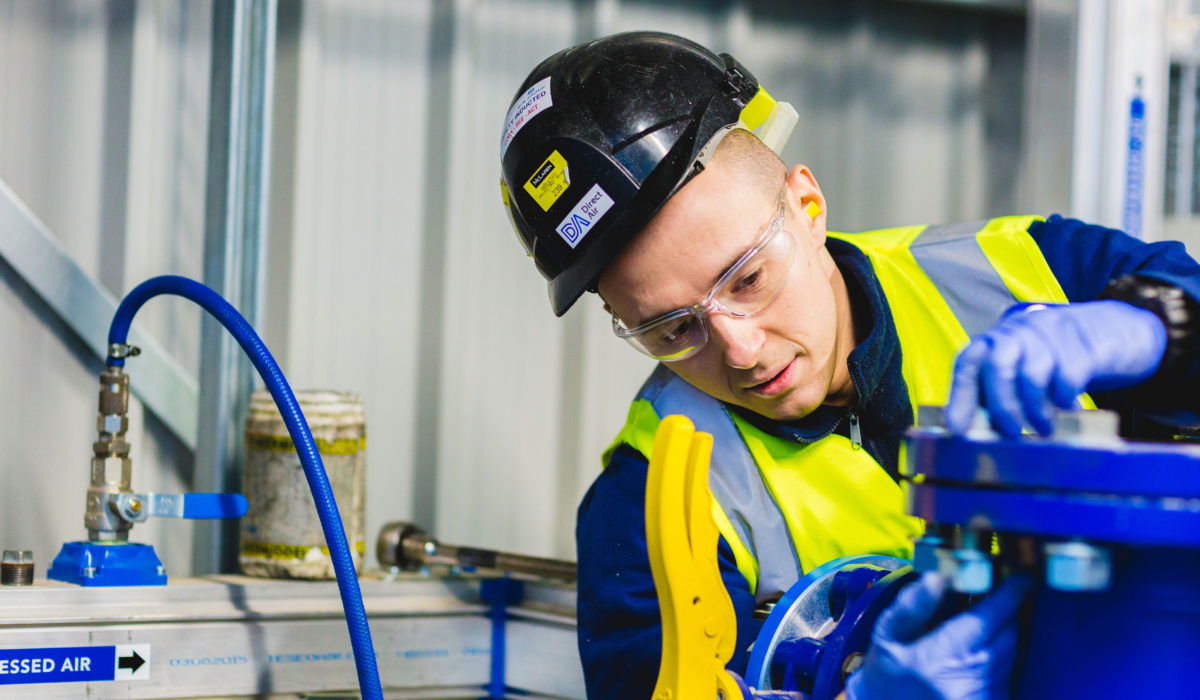 Praca po kursie 
Umiejętność eksploatacji i dozoru sprężarek, dmuchaw, ssaw, kompresorów oraz instalacji sprężonego powietrza pozwoli na pracę między innymi w:
gas industry and gas transport;
metallurgy;
zakładach zajmujących się procesami technologicznymi w obszarze chemii przemysłowej;
mining;
refrigeration industry;
companies using forced circulation equipment;
industries using artificial draft processes in boiler equipment and chimney coolers;
pneumatic transport;
companies dealing with professional pressure painting.
Place of training
Compressor training takes place in our branches throughout the country. We also offer closed training for organized groups - then we reach the client.
Why ODK ERGON?
Ukończenie organizowanego przez nas szkolenia pozwala zdobyć niezbędną wiedzę do samodzielnego i bezpiecznego obsługiwania sprężarek. Oferowany przez nas kurs zapewnia teoretyczne i praktyczne przygotowanie do pracy w zawodzie. W trakcie szkolenia stawiamy na kompleksowe podnoszenie kwalifikacji naszych kursantów. Posiadamy ponad dwudziestoletnie doświadczenie, w tym czasie przeszkoliliśmy tysiące osób. W razie jakichkolwiek pytań dotyczących naszej oferty prosimy o kontakt – nasi pracownicy chętnie pomogą wyjaśnić wątpliwości. Zachęcamy do wybrania naszych usług! Zespół Ośrodka Doskonalenia Kadr ERGON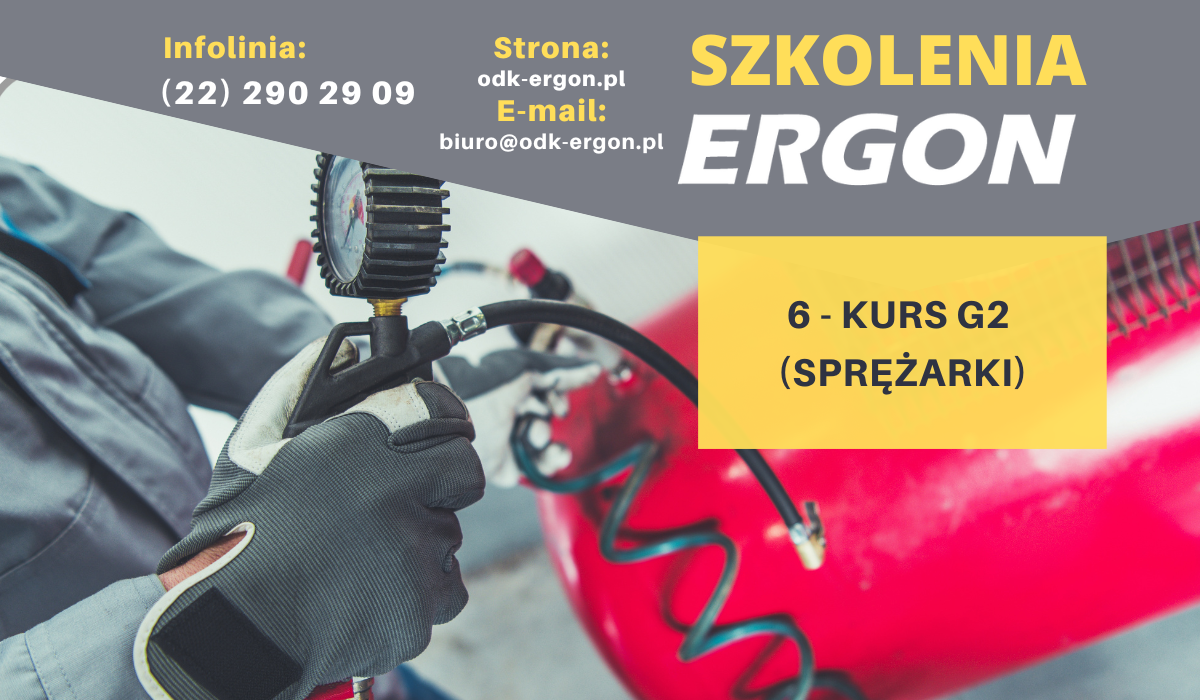 More information: