Flange connections course
Flanged connections are one of the most popular connections used in industrial hydraulics, power hydraulics, heat pump installations or home hydraulics. The quality of the elements used has a very large impact on the structure, therefore it is necessary to know how to choose the right connections and to be precise in the work performed.

The advantages of a flange connection:
structure stiffness,
high tightness of the connection,
possibility to disconnect again.
In order to properly prepare for work in this position, you should also pay attention to the dangers that may accompany the work of the fitter. Flange connections may seem trivial, but they often may even result in a fire. That is why knowledge and having the appropriate qualifications are so important.
We cordially invite you to participate in a certified course in the assembly and supervision of flange connections, conducted in accordance with the standards PE-EN 1591-4, during which you will gain theoretical knowledge and practical skills for your profession.
What we will teach you: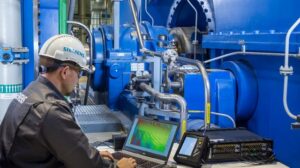 theoretical and practical knowledge,
knowledge of the types of flange connections as well as the practicality and types of gaskets,
safe disassembly and assembly of joints (health and safety rules),
identification of failures and defects of flange connections with a gasket,
how to properly prepare the surface to be sealed,
airtightness requirements,
tools used in assembly, including hydraulic and torque wrenches, 
general health and safety rules,
residual and applied connection loads,
loss of connection load and its consequences,
deformation, bolt load and gasket stress,
exercises under the supervision of a professional tutor.
Benefits you will get from the training.
After completing the course, you will receive a certificate valid for 5 years in Polish and English, entrusted by TUV SUD, authorizing you to install flange connections valid throughout the country and other European countries.
For whom?
The course is aimed at any adult with minimum basic education who wants to gain experience or has already had contact with flange connections.
Price and date of the course.
Please contact us to find out about the cost of the course.
To make a reservation, please contact us by phone, where we will be happy to answer all your questions.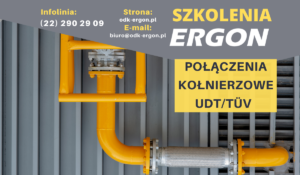 More information: