Soft soldering and brazing training
Soldering training
Join us for soft soldering and brazing training at the ERGON Staff Development Centre.
Receiving training in brazing and soldering gives participants practical knowledge that is useful in their work and everyday life.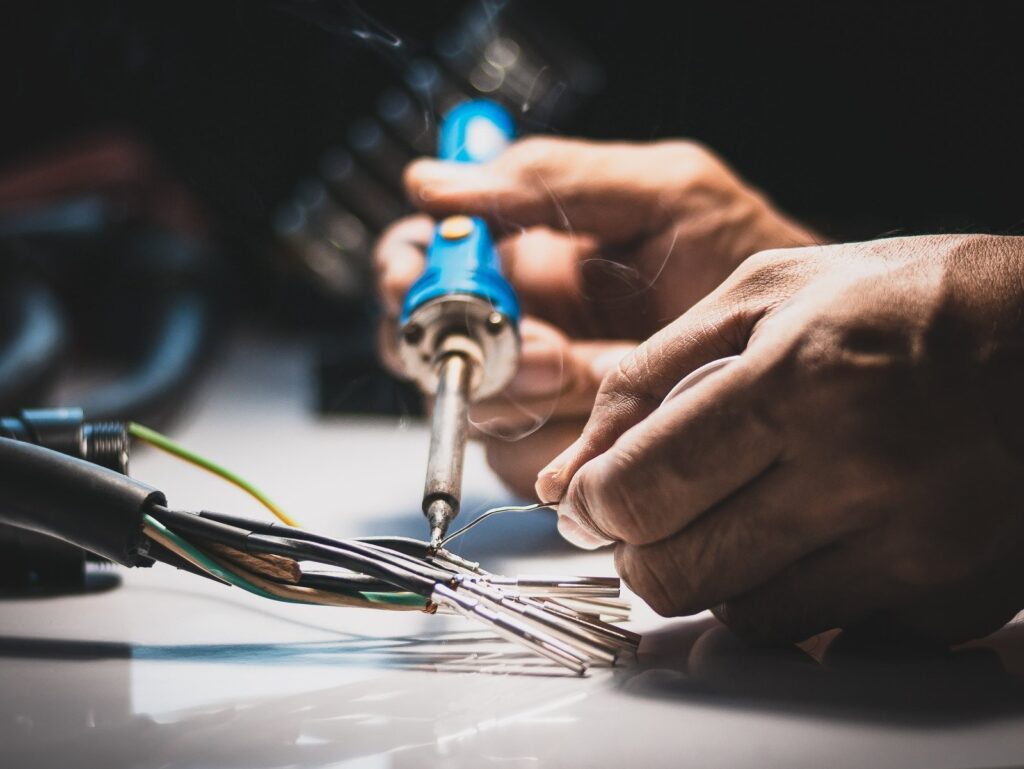 Soldering
Soldering is a process of joining metal parts, used in electronics, plumbing or automation, among others. Soldering is mainly carried out by hobbyist DIY enthusiasts, but also by professionals who use such skills in their work. The soldering procedure, which binds two metal parts together, is carried out using a suitable binder called solder or solder. Because it has the physical and chemical properties of the elements in the metal group, such a joint is really solid and durable.
Characteristics of soldering methods
Soft soldering is characterised by the use of a soft binder, which is an alloy whose temperature is not lower than 183 degrees Celsius and at the same time does not exceed 450 degrees Celsius. Tin is the basic alloy component that is found most often. Metals that melt at a similar temperature occur with it. For example, these include antimony, bismuth or cadmium. The mixture may contain small amounts of poisonous elements, e.g. mercury and lead, but this is now increasingly being abandoned and their addition is being dispensed with in the manufacture of solders, increasingly releasing products that are environmentally and health-friendly.
Brazing is more difficult than soft soldering, primarily because of the professionalism required and the use of more advanced tools. Experience in the trade is also required. Brazing using this method can reach very high temperatures, exceeding 450°C.
Soldering course
Soldering training is aimed at those involved in soldering work, particularly where employers require high quality soldering. We welcome anyone who wants to learn how to fix metal components. Learning to solder at the ERGON Centre of Excellence is an effective way to acquire soldering skills.
Anyone wishing to participate in the training must meet the following conditions:
should be at least 18 years old,
have a minimum of primary education,
have no health contraindications.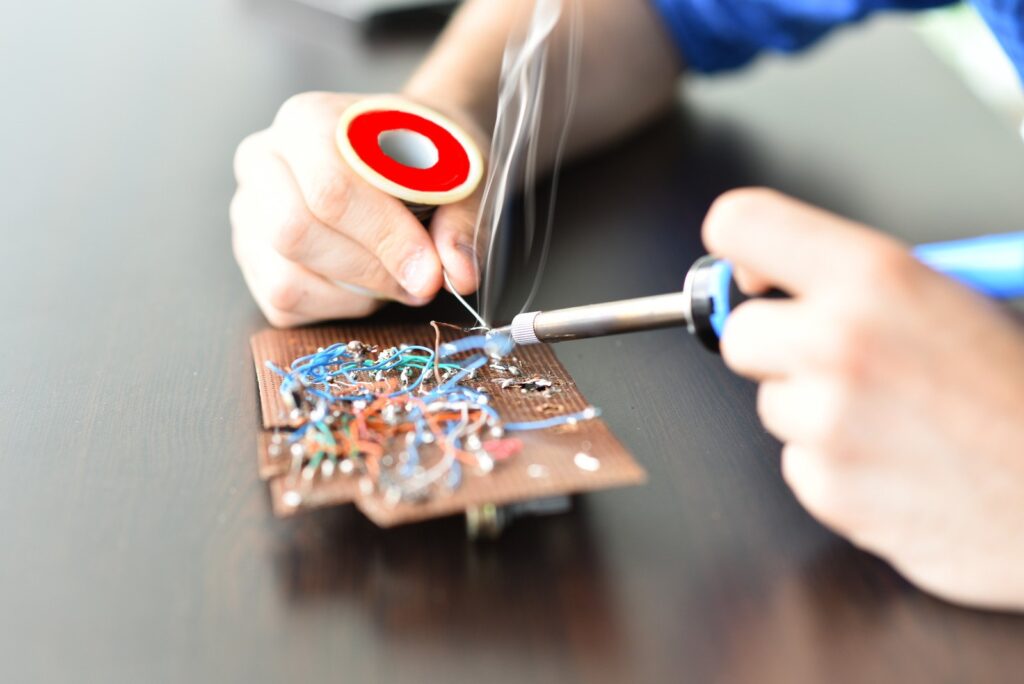 The brazing and soldering course concludes with a welding exam, followed by the issuing of a Brazer Qualification Examination Certificate and a certificate of completion of training in Polish and English valid for three years. The Brazer Qualification Examination Certificate entitles you to work as a brazier in Poland and other European countries.
The following topics are discussed during the soft soldering and brazing training:
From the theoretical part:
Health and safety rules during soft soldering and brazing;
the possibilities offered by soldering;
soldering tools such as a soldering iron, torch, etc.
information on the physical processes that take place during soldering: e.g. wettability, capillarity, cohesion forces, adhesion forces;
basics of solder joint design and joint strength.
From the practical part:
preparing the work area for soldering;
preparing tools for work - soldering iron, torch, etc;
preparation of materials for soldering - components to be joined and solder;
attachment exercises.
Soft soldering and brazing training - for organised groups we offer training courses:
at the ERGON Personnel Development Centre in most cities in Poland - please contact us;
at a location designated by the client.
We will adapt the training location and date to suit your needs. All formalities regarding the appointment of the Qualification Examination are handled by us. Trainings are conducted by experienced instructors who care about the high quality of training and satisfaction of our participants.
Theoretical and practical classes as well as the examination can be held at times convenient to you. We also have the possibility to hold training courses on weekends. We are open to price negotiations for organised groups. All participants will receive a package of relevant training materials, including a set of control exam questions with answers.
What can you gain from the training?
Students can obtain a certificate of completion of the training in accordance with the Regulation of the Minister of National Education of 11 January 2012 on continuing education in non-school forms (Dz.U. of 2014, item 622) and a Certificate of the Brazer Qualification Examination issued by the TÜV certification body, entitling them to work as a brazer in Poland and other European countries.
TÜV is an independent body and its certification is an internationally respected objective proof of competence.
Obtaining a certificate and a Certificate of Qualification Examination upon completion of the soft and hard soldering training course will not only increase your confidence towards soldering skills on a personal level, but will also make you more attractive on the job market.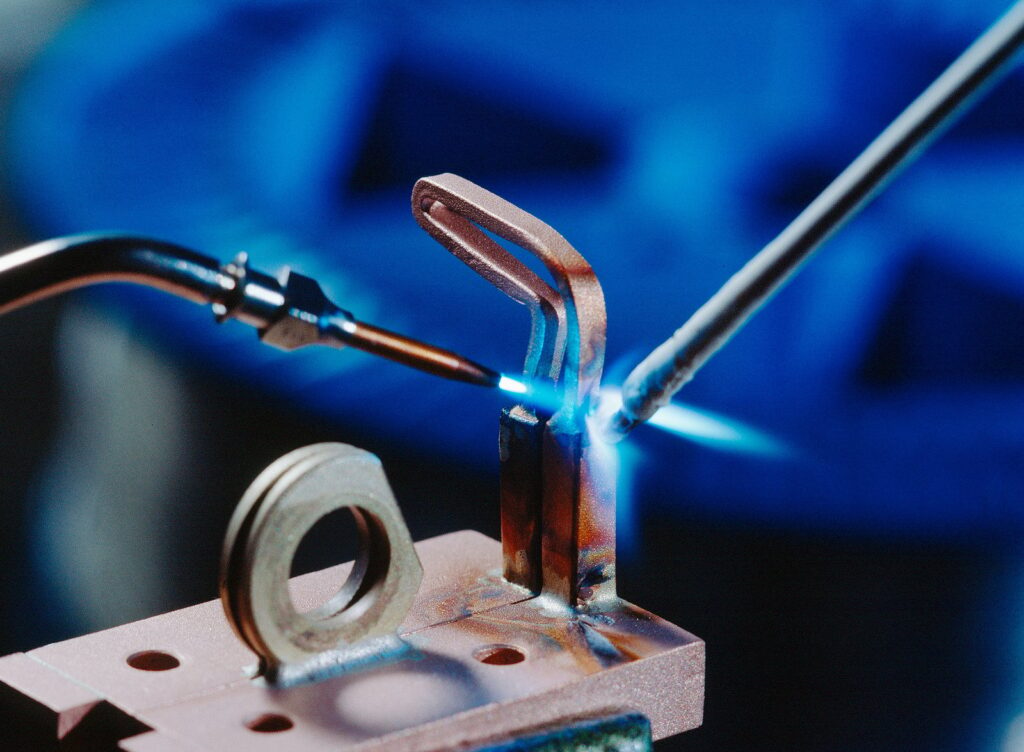 What does the training look like?
Brazing and brazing training is divided into a theoretical part and a practical part. The whole course ends with an examination before an examination board which is appointed by the the provincial environmental inspector or the competent authority of the State Fire Service. The instructors introduce the trainees to useful knowledge and skills for the professional performance of their duties in the profession, but also to practical activities, such as in private life at home.
More information: