Training for overhead traveling cranes - get UDT qualifications from ERGON!
Training for overhead cranes
The ERGON Kadr Training Center invites you to a crane course granting UDT qualifications. We train in the city of Warsaw and in our regional centers throughout Poland. Our UDT courses are a guarantee of satisfaction - we train professionally, comprehensively and at affordable prices!
Courses for gantries are aimed at people who want to obtain knowledge and skills in the efficient and safe operation of gantries. After the end of the classes, participants take the exam before the UDT commission. After passing it, the participant obtains the authorization for overhead traveling cranes.
Classes are conducted in two categories:
II S - cranes, hoists and winches operated from the working level and stationary workshop cranes
IS - cranes, hoists and winches operated from the working level or from the cabin, and stationary workshop cranes
Schedule
Our crane training courses are divided into theoretical and practical parts. Thanks to them, the participants learn everything that is necessary on the crane stand.
We use activating teaching methods, and our instructors are people with many years of experience. Thanks to this, our center can be proud of such a high pass rate of UDT exams.

The following issues are discussed during the classes:
technical supervision of the device
information on the construction and operation of the device
duties as an operator
principles of occupational health and safety
Requirements to participate in the training:
age at least 18 years
at least basic education
no health contraindications to work as a crane operator confirmed by a medical certificate
We encourage you to sign up for the crane course - the price in our ERGON Center is affordable. We organize classes in the city of Warsaw and in other cities throughout the country. The current schedule is available on our website or by phone.
Our offer also includes other training courses, including G1, G2, G3 courses, initial and periodic health and safety training, and altitude courses. We also provide health and safety services and Fire. We invite you to choose our services!
More information: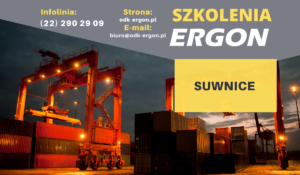 More information: