Fire training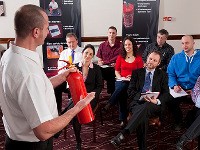 ERGON Personnel Training Center invites you to fire protection trainings. We have many years of experience in the industry and we have a team of competent instructors and our own lecture halls. We are also able to provide fire training for employees in any place you choose in the Mazowieckie voivodship and throughout Poland.
According to the law, the employer's task is to provide fire protection in the workplace.
Employer Responsibilities
The owner, manager or user of the building is obliged to:
indicating and sending an employee to a fire-fighting course who will be responsible for evacuation procedures in the event of a fire
defining procedures in the event of fires, natural disasters and other threats
provide employees with fire regulations
provide everyone in the building or its premises with safe evacuation
equipping the building or the area with appropriate fire-fighting devices, including fire extinguishers
conduct regular maintenance of fire-fighting equipment, including fire extinguishers, to keep them working properly at all times
Fire safety in the facility
Every owner, manager or user of a building, except for single-family houses, is obliged to:
equip the building with fire-fighting devices and fire extinguishers, and keep them constantly functional and technically operational
equip the building in accordance with technical and construction regulations with appropriate fire protection switches
install in visible places instructions on how to proceed in the event of a fire and a list of up-to-date emergency telephone numbers
prepare markings for escape routes, places with fire extinguishers, power switches, gas taps - use signs in accordance with Polish Standards
In order to meet the legal requirements presented, we recommend fire protection trainings. in our ERGON Center, during which employees can learn everything about the topic presented, and we also provide comprehensive consulting services. By choosing our fire protection courses, you can be sure that all procedures will be followed.
Each fire protection course is based not only on legal regulations, but also on our many years of industry experience. That is why we use proprietary programs and modern aids, thanks to which each participant of the course receives extensive theoretical knowledge and skills.
Fire training includes, among others:
rules of safe conduct during firefighting
the theory of the use of handheld firefighting equipment along with its construction
demonstration of the model fire extinguishing by the instructor
practical exercises
Fire protection training for employees is intended for groups of up to 15 people.
Our specialty for over 15 years is safety training and fire protection. We handle them comprehensively and competently, and we are always oriented to the needs of our clients, which is why we are able to adapt each OHS and fire protection training individually to your needs.
We conduct fire-fighting training at our headquarters in Warsaw, where a modern lecture hall is available. Also fire protection trainings we perform for clients in designated places, mainly at headquarters. We are able to go practically everywhere throughout the country - please contact us to arrange the details of the service.
We are able to adjust each fire protection training individually to the client's needs in terms of its subject matter, so that it also includes the specificity of the workplace and the workplace. Our instructors will conduct classes to meet all your requirements.
At the same time, our Center is also distinguished by the attractive price of the classes. We do not apply prices imposed in advance, and the final fees depend on the number of participants, so if you want to know approximate prices, we encourage you to send an e-mail or telephone with an inquiry.
ERGON Personnel Training Center - fire protection training Warsaw - we invite you to use our services!
More information: