HDS CRANE COURSE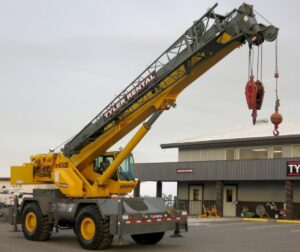 A hydraulic truck crane (HDS) is a truck with a crane mounted on it. The device is classified as a crane. Self-propelled cranes and cranes are used very often. HDS guarantees flexibility in the performance of work and is also highly mobile.
The crane mounted on the car's chassis is powered by the car's engine. The operator from the driver's cabin manages the equipment. Depending on the construction and destination, these types of cranes may differ in purpose, lifting capacity and reach of the crane arm. The load capacity of such a device is even up to several tons, which allows you to work with large dimensions.
Transport and construction companies often use HDS - the equipment is perfect for:
construction industry for unloading and handling building materials
transport for moving, loading and unloading dimensions
forestry industry for loading and unloading trees
industrial warehouse ports
The versatility of the device and the wide spectrum of its use provide a lot of work opportunities. However, in order for it to be performed properly, the hydraulic truck lift must be operated by a suitably qualified operator with documented evidence UDT qualifications.
The hydraulic truck crane provides comprehensive solutions for loading and reloading of goods. Operation of this type of device requires the completion of appropriate training and qualifications. As a company with many years of experience, we offer professional training that meets the requirements of the Office of Technical Inspection. We will support you in obtaining the qualification.
Purpose of the course
The training authorizes the operation of mobile and portable cranes. The theory and practice acquired during the course prepare students for the UDT state examination.
HDS training is intended for those wishing to acquire new professional skills. The basic requirement for starting the course is that the student must be at least 18 years of age. In addition, a doctor's certificate of health and a category C driving licence are required.
During the trainings, our qualified lecturers will present the general application of cranes, their steerability, operation, operation of the equipment as well as safety and health and safety rules. We will comprehensively prepare you for servicing cranes. We put emphasis on the use of theory in practice on hardware.
We offer a course for:
Stationary and mobile cranes
Portable and mobile cranes
Floating and deck cranes
Tower and rail cranes
Completion of the course allows you to take the exam before the committee of the Office of Technical Inspection. It entitles you to obtain a certificate of qualifications that ensure that you start working with HDS cranes.