Mobile platforms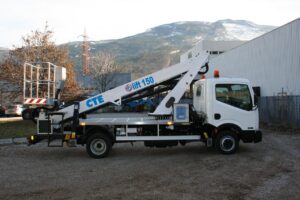 Mobile platforms are classified as cranes for working at heights. It is a group of machines that facilitate the movement of people and materials to a specific place, both vertically and horizontally. The platform consists of a platform lifted on a hoist or suspended on a tractor. It is powered by an internal combustion or electric drive. 
You need to obtain a license to operate the mobile platforms UDT. During the course, the student will acquire knowledge of machine construction, equipment operation, safety and health and safety rules. The theoretical hours are then recorded in practice when operating the equipment. 
Division of device service in UDT categories: 
IP - self-propelled basket platforms (platforms), transportable (attached to vehicles), slow-moving scissor lifts;

 

II P - stationary, hanging and mast platforms.

 
Mobile access platforms are the most popular equipment used in construction and warehouse works: 
basket platforms are safe and comfortable to work, The platform is secured with a barrier that protects against falling from a height. They are characterized by easy and quick access to various areas. Additionally, they can be an alternative to scaffolding;

 

Mobile platforms are mounted on the trailer's chassis, they have a characteristic shape of the base called a spider;

 

slow-moving platforms are self-propelled. They consist of a structure on a chassis on which the platform is mounted. Their second distinction is the division into slow-moving scissor lifts, articulated lifts and telescopic lifts.

 
In the second category, there are: 
stationary platforms that enable the movement of tools, people and materials at a height in a designated, permanent place;

 

Hanging mobile platforms are suspended on ropes from the roof of the building. The platform basket is operated with a winch;

 

mast platforms where the lifting platform is located on a mast mounted on the chassis. This allows the device to pass through.

 
The types of mobile platforms allow the machine to be adapted to the workplace. They may differ in technical parameters such as: lifting capacity, dimensions and range of the platform, working area adapted to work, speed of lifting and rotation of the boom. These are basic data, thanks to which it is possible to select an individual platform to the specificity of the tasks.