Slings
What are slings?
Slings are a component of lifting equipment such as cranes, gantries, cranes and tendons. They are used to lift and carry the load to be transported. The sling is attached to the hooks of the above equipment. It is very useful for bulky goods with suitably placed attachment points.
Types of slings
Slings can be divided into:
gripping,
Tendons,
traverses,
platforms and containers.
Drawstring slings are devices that enable the load to be hitched in a shorter time.
By their design, these devices are adapted to the size, shape and weight of the loads they carry.
Gripping slings consist of one or more sections of non-calibrated link chain, with short or medium links, or sections of fibre or steel rope, fitted with various types of hooks, rings, shaped links, clamps, etc.
Traversers are designed for placing larger loads on the hook of a crane or for moving several pieces of lighter items simultaneously.
Platforms and containers are responsible for handling general cargo.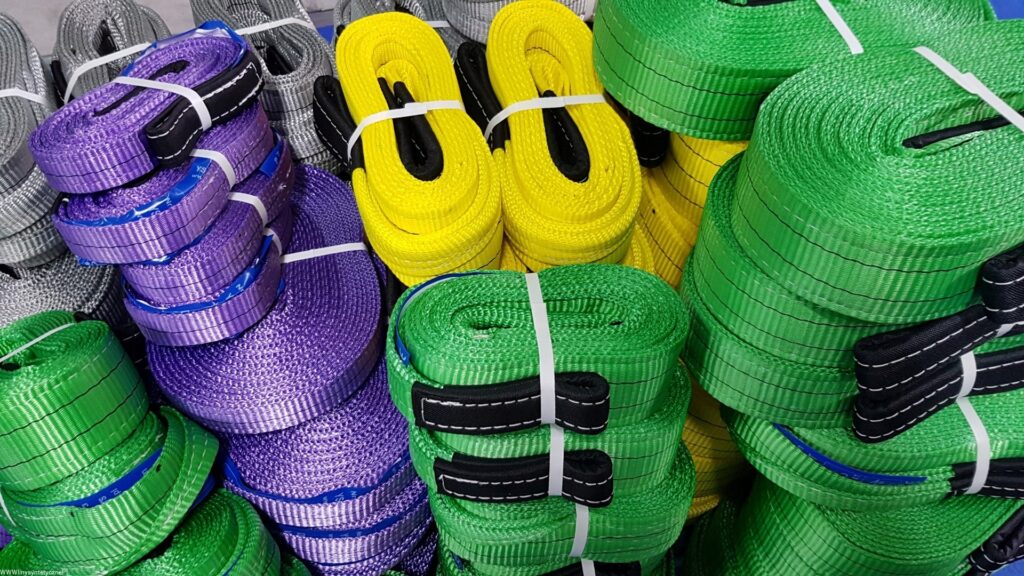 Slings can also be divided as follows:
due to the material of the tendons:
slings made of steel cables,
chain slings,
slings with tendons in the form of textile or synthetic belts or ropes made from such materials;
due to the number of tendons present:
single-leg slings,
two-legged slings,
three- or four-legged slings,
because of the way in which the transported goods are secured:
gripping slings,
self-locking slings,
hooking slings,
bail slings,
forklifts,
vacuum slings.
Control of slings
Sling manufacturers guarantee purchasers safe operation of their equipment if purchasers follow the accompanying instructions. Included in these is the important advice about the need to inspect the slings every day. With this:
it is known whether there is any damage,
it is known whether the signage is legible,
extend the life of slings,
make sure there is safety in the workplace,
save time and money.
Every user is required to carry out an inspection of slings. There are three types of them:
a daily check, during which the technical condition of the sling is visually inspected before work commences,
periodic inspection at least twice a year, and every 2-3 months if the work is intense,
a periodic examination at least once a year and, in the case of heavy workloads, no less than twice a year.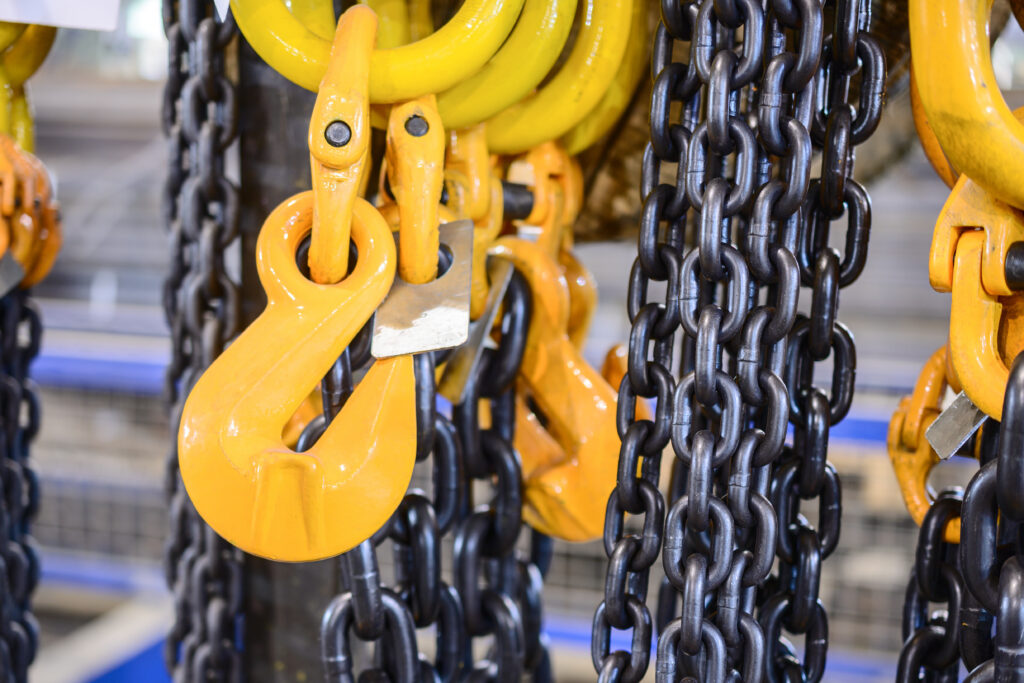 During periodic inspection activities:
check that the condition of the rope, belt and chain slings is in order,
assess the slings visually,
make sure that the sling is correctly labelled with the certificate number and lifting capacity.
It is required that the inspection of the slings is carried out in accordance with the standards:
PN-91/M-84701 - for chain slings,
PN-EN 13414-1+A2:2009 - concerning steel wire rope slings,
PN-EN 1492-1+A1:2008 - concerning belt and hose slings.
Properly inspected slings
The inspection of the sling properly involves looking at whether cracks, discolouration, deformation, elongation of parts of the sling are present and whether any unwanted corrosion is visible. If all of this is OK, the next step is to carry out a load test.
The regulations in force require that the load can be moved safely, with a nominal load of no more than 150%. After all tests have been carried out, a sling assessment is issued, and based on this, a decision is made as to whether the device can continue to be operated freely or whether remedial action is still required.