Telescopic handler, or operator course
Construction work has always demanded a high level of commitment from workers, both physically and logistically, and the machines used as early as the 1960s with their forklift-like design were the answer to these demands. Over time, they became known as telehandlers, but further developments and a particular specialisation were to attest to their timeless value. How they differed from their predecessors brought about revolutionary changes, and not just in one field, but in many other markets of the economy.
What is a telehandler?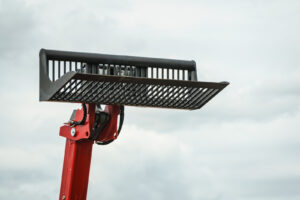 It is a forklift truck with a variable reach, for which a mechanical lifting drive is responsible - giving the forklift its universal significance, which finds its use in both construction and agricultural work. The colloquial name of this machine, the telehandler, refers to the first specialised forklift trucks, whose task versatility has over time transcended boundaries by entering more diverse areas of the industrial, mining, construction and agricultural economy. With the general technological development, these machines can be found with new improvements, i.e.: air conditioning, energy efficiency, better mobility, manoeuvrability and with remote control.
Telescopic handlers can be differentiated according to a number of factors, mainly with regard to construction elements, but it has become accepted to use a general systematics, i.e. a distinction between front loaders and slewing machines.
Frontal equipment - have a boom on the right-hand side and a stationary operator's cab, in addition to their high lifting capacity.
Rotating equipment - They feature an additional swivel head, which allows the operator's cab to rotate around its own axis with the boom, and moreover has the ability to lift loads to a great height.
Construction
Travelling trucks, such as the telehandler, are prepared for jobs that require heavy lifting. Key to this is their design, which consists of individual components, or attachments:
work platform
winches
pitchfork
grabs
spoons
boom
ploughs
mowers
a chassis that varies according to the location and type of work carried out
Application
Thanks to its design, the telehandler is characterised by its multi-tasking ability, which is great for construction work. Its versatility is influenced by the fact that it has a higher lifting capacity, power and mobility than normal forklifts, and is better adapted to difficult working conditions - difficult ground. Its applications can include the manipulation of objects such as steel structures, concrete materials, aggregates, wood, straw and others. In general terms, a telehandler is involved in carrying out work that involves moving, erecting and transporting loads or people.
Due to its attachments, that is to say the structural elements we mentioned in the paragraph above, we can assign the lift truck we are discussing to the various fields in which it finds its use. For example, with a high lifting capacity that can reach up to 20 tonnes (depending on the model), we can appreciate its functionality and affordability on construction sites. Their assimilation into the environment in which they work has an effect in their favour and attests to their usefulness during construction work.
However, their wide range of applications is not limited to the construction industry; as mentioned, their versatility is a leading advantage over all other equipment. They are suitable for animal husbandry and farming. They can be used to move hay bales, fodder, crops and heavier loads. All thanks to the right attachments.
Another field in which the loader is demonstrating its usefulness is quarrying, in quarries and mines. They carry out work both above and below ground, again their assimilation into working conditions is a factor in their favour. In addition to transporting, unloading and loading work, these machines prove their worth when clearing a work site, for example by carrying columns of timber.
We mentioned the transport of materials, but not the movement of people. What is the principle behind such a manoeuvre? By changing the attachment, i.e. replacing the forks with a winch, we are able to install a basket in which people can be transported to the right place and to the right height.
Entitlements
In order to operate the equipment described by us, it is necessary to obtain a WJO category I licence - this is a licence for a specialised forklift truck, including a licence for loaders with variable reach, i.e. telescopic handlers. The certificate and work licence obtained in this way are valid indefinitely throughout Poland and in the countries of the European Union (they can be issued in other languages). How do I obtain the necessary authorisations to enter the profession?
You must pass an examination conducted by a commission from the Office of Technical Inspection (UDT). In order to obtain the necessary knowledge and skills, it is advisable to complete courses for the training of candidates for telescopic loader operators. The trainee should be at least eighteen years of age, have at least a primary school education and a certificate from an occupational physician that there are no contraindications to training as an operator.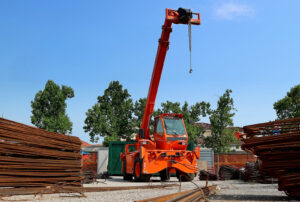 ODK ERGON
ERGON Personnel Training Center has been providing courses for the past fifteen years. It provides the basic and complete knowledge needed to pass the exam, as well as introducing the participant to details that will help them in their future work. Lectures are conducted in the form of webinars - real-time audio-video transmissions - i.e. remotely, to ensure both the comfort and safety of the participant in times of a coronavirus pandemic. Added to this are practical exercises under the watchful eye of our trainers. This course covers the following concepts:
types of equipment and their construction
technical supervision
the activities of the machine operator before, during and after work
fundamentals of cargo science
familiarity with auxiliary equipment of the machine
construction and operation of gas cylinders
Health and safety at work
Depending on the number of people signing up for training (closed groups), ERGON has prepared special discounts to ensure competitive prices in the training market, in addition it can carry out training at the client's premises in the case of organised groups. The aim of ERGON courses is to train employees capable of working safely, responsibly and efficiently. To this end, ERGON employs highly qualified trainers with extensive professional experience and provides complete theoretical and practical knowledge. You will find all the information you need on the official website of ODK ERGON - odk-ergon.pl - where you will also be able to find out about the entire offer and the price list.