Work at height in winter
Winter is a challenging time for industrial climbers. Inclement weather conditions require focus and extreme caution to carry out their work safely. There is an increased level of responsibility to ensure that they do not expose themselves or others to the dangers of winter work at height.
Maintaining security and SOI
Not every mountaineer should undertake work in winter. This period requires responsible and, above all, experienced workers with appropriate training. That is why, in addition to up-to-date examinations, regular training and certification for working at height in winter is required.
It is the mountaineer who takes the responsibility of moving safely when working with specialised equipment. It is also incumbent on him to ensure the safety of those moving around his work area. Therefore, such a worker is obliged to mark the area that is at risk during the assignment. Warning tape, for example, can then be used for protection.
In addition to basic climbing equipment, Personal Protective Equipment (PPE) will be essential:
a specialised suit to protect against low temperatures,
insulated, waterproof boots with non-slip sole,
reflective waistcoat,
Protective helmet with EN 397 standard requirements for work at heights,
safety harnesses with the requirements of standard EN 361.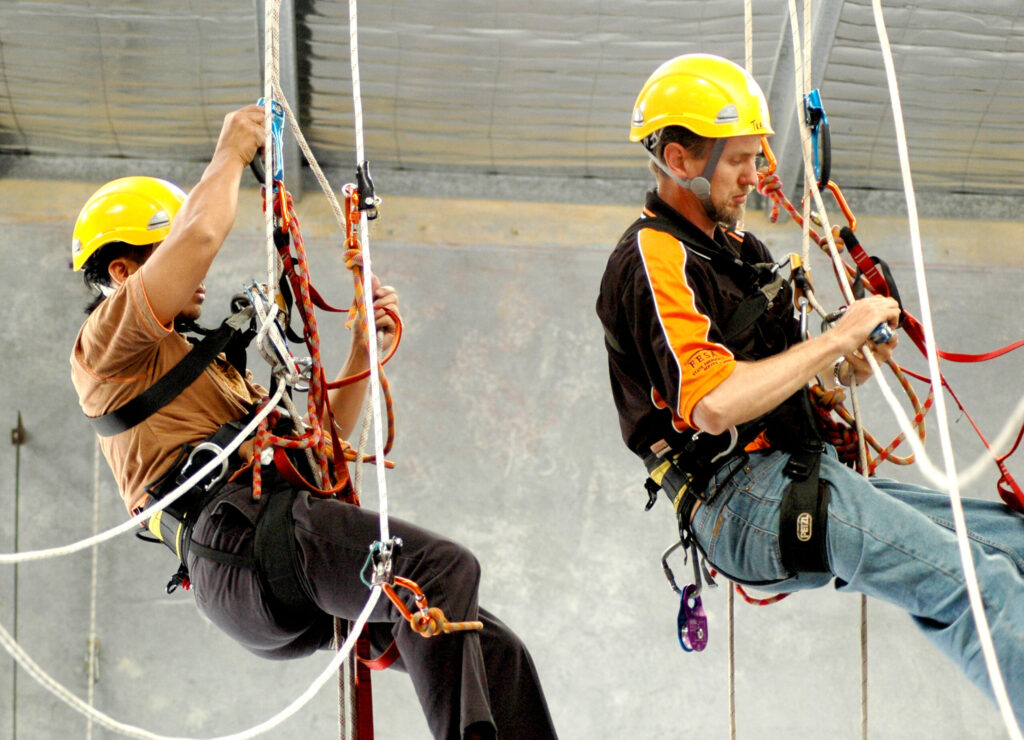 It is worth noting that you should have at least one set of emergency equipment for possible evacuation, and that workers should be directly supervised by the person in charge.
Winter work at heights
It might seem that winter is a time of downtime for industrial climbers. However, this is a misconception, as there is a whole range of work carried out by experienced high altitude workers during the winter months.
Snow and ice removal
Excessive snow and ice hanging from the roof or clogging gutters are some of the biggest hazards in winter. They are dangerous for people passing by the building on which the precipitation accumulates. They also create a danger to the structure of the buildings themselves, which can cause the building to collapse.
Snow clearance technology for roofing
Although it may not seem like a complicated activity, it is worth bearing in mind some rules on how to clear snow from the roof. Here are some simple rules:
Mark the danger zone around the building, i.e. where the snow will fall.
Use equipment that will not damage the roofing, i.e. suitable shoes and climbing gear fastened in the appropriate places.
Watch out for installations that are mounted on the roof.
Don't cluster on the roof and create snowdrifts from the snow you remove.
Do not remove icicles by mechanical means.
Overview of snow clearing systems
Roofing snow removal systems are becoming increasingly popular. So do such systems have anything in common with industrial climbers, since they are the ones that remove precipitation from the roof? Of course they do. Snow-removal systems require regular maintenance checks, which is the responsibility of high altitude workers.
Window cleaning
A huge number of skyscraper windows are exposed to dirt. For this reason, climbers also provide window cleaning services in winter.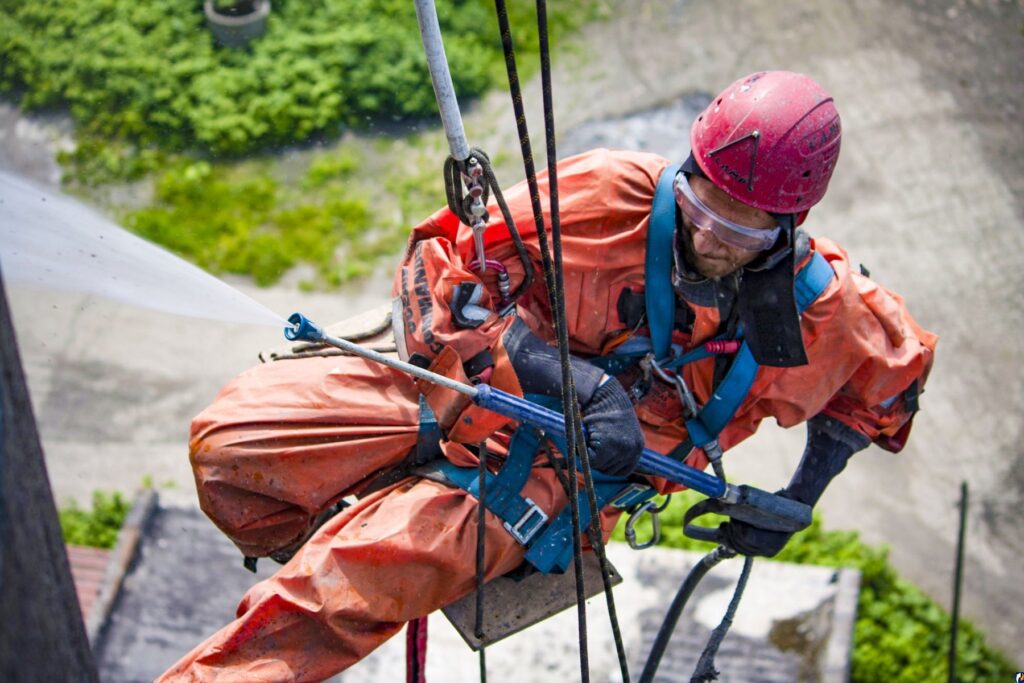 Hanging billboards
The regular changing of billboards is one of the most popular services. It is provided all year round, regardless of the season.
Hanging bird feeders and birdhouses
People's increasing awareness and concern for their surroundings has also led to a growing interest in environmental activities in winter. More and more nature lovers are choosing to install bird feeders and nesting boxes.
In winter, the work of industrial climbers involves greater responsibility. It is not only a basic knowledge of climbing, but also a number of specific rules. Experience and training in working in harsh weather conditions are just a few of the requirements for industrial climbers in winter.
Questions and Answers
As a novice mountaineer, can I undertake work in winter?

Working at heights is for suitably qualified and experienced climbers. If you are just starting out in industrial mountaineering, rely on further training and climbing experience. Don't take on tasks where you won't know how to react. Irresponsible work at height in winter puts your health and even your life at risk.
How do I clear the snow from the roof myself?

Clearing snow from the roof yourself is not a good idea, as it involves the risk of slipping. It is therefore worth trusting the specialists. Industrial climbers have climbing skills, specialised equipment and the necessary knowledge of how to successfully clear snow from a roof.