Training for stationary crane operators and maintainers
Żurawie stacjonarne, inaczej warsztatowe, to dźwignice, czyli urządzenia używane do przenoszenia ciężkich ładunków na ograniczonym obszarze. Wysięgnik, który się obraca i podnosi ładunki, czyli ramię, może być przymocowany do słupa lub ściany. Wykonuje się nim zwykle obrót 360 stopni, czasem mniejszy. Inną, charakterystyczną rzeczą, jest rodzaj cięgna nośnego, które w żurawiach stacjonarnych może być linowe lub łańcuchowe.
Technical inspection
Jak wiele innych i podobnych maszyn, tak i żurawie stacjonarne podlegają dozorowi technicznemu. Żeby więc móc zostać operatorem czy konserwatorem trzeba zdobyć uprawnienia. Z wymogu posiadania specjalistycznych kwalifikacji są zwolnione osoby pracujące z żurawiami:
z napędem ręcznym,
z napędem elektrycznym jednofazowym – udźwig do 1000kg,
z udźwigiem do 250kg, bez urządzeń używanych do transportu ludzi.
Uprawnienia są wydawane przez następujące organy: UDT – Urząd Dozoru Technicznego, TDT – Transportowy Dozór Techniczny oraz WDT – Wojskowy Dozór Techniczny. To, która z tych jednostek powinna wydać uprawnienia, zależne jest od tego, na jakim terenie znajduje się maszyna, na którą są potrzebne.
Istotne jest, że wydawane uprawnienia są wzajemnie uznawane przez wymienione jednostki. Aby je natomiast zdobyć, należy odbyć szkolenie, jakie oferuje nasz ośrodek.
Nasze szkolenia
Ramowy program kursu, który dzieli się na teorię oraz praktykę, obejmuje: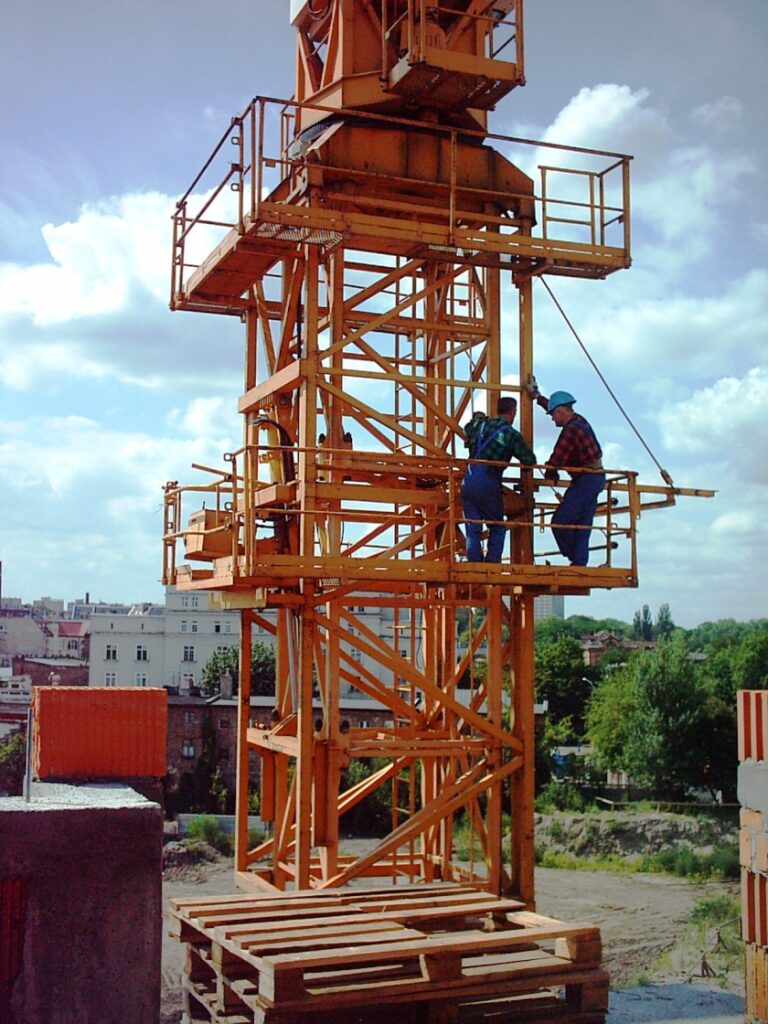 omówienie wymagań kwalifikacyjnych od kandydatów,
wszystko o żurawiach: budowa, funkcje, podział,
poznanie maszyn, jakie podlegają pod dozór techniczny,
budowę i działanie mechanizmów,
naukę obsługi – w teorii i praktyce,
pracę w szczególnych warunkach,
safety devices,
wyposażenie żurawi,
przyrządy sterownicze,
HEALTH AND SAFETY,
postępowanie przy awariach, uszkodzeniach oraz wypadkach,
podział i zastosowanie chwytaków, haków i innych doczepnych mechanizmów,
użycie smarów i olejów konserwacyjnych, zapobieganie awariom i wypadkom, sposoby konserwacji oraz utrzymania maszyny w dobrym stanie technicznym, a tym samym bezpieczną – wykłady dla przyszłych konserwatorów, nieobowiązkowe dla operatorów.
Exam
Następnie po ukończeniu szkolenia, uczestnik podchodzi do egzaminu zdawanego przed komisją UDT, którego pozytywny wynik oznacza utrzymanie uprawnień na okres 5 lat od daty zdania egzaminu. Po tym czasie można wystąpić do UDT o przedłużenie, spełniając uprzednio warunek wykonywania pracy minimum 3 lata przez czas 5 lat ważności uprawnień.
Aby natomiast podejść do kursu, należy spełnić parę wymagań:
be at least 18 years old,
posiadać co najmniej podstawowe wykształcenie,
posiadać zaświadczenie lekarskie o braku zdrowotnych przeciwwskazań do pracy na stanowisku.
Zależnie od upodobań i potrzeb klienta, szkolenia mogą odbywać się u niego, lub u nas w ośrodku. Egzamin natomiast jest u klienta, na docelowej maszynie, na którą robione są uprawnienia. Pomagamy z wszystkimi formalnościami niezbędnymi do zapisu. Masz jakiekolwiek pytania, nie jesteś czegoś pewny? Zapraszamy do kontaktu.
Questions and Answers
Czym są żurawie stacjonarne?

Żurawie stacjonarne, inaczej warsztatowe, to maszyny dźwigowe służące do przenoszenia ciężkich ładunków na pewnym, ograniczonym obszarze. Często spotykany jest w warsztatach produkcyjnych jako wyposażenie stanowiska pracy.
Czy na wszystkie żurawie potrzeba uprawnień?

Są pewne typy żurawi, które nie wymagają uprawnień. Zaliczamy do nich urządzenia z napędem ręcznym, elektrycznym jednofazowym (udźwig do 1000kg), oraz takie z udźwigiem do 250kg, pod warunkiem, że nie są to żurawie do transportu ludzi.
How long are the entitlements valid?

Uprawnienia na żurawie stacjonarne są ważne 5 lat od dnia zdania egzaminu. Jest również możliwość ich przedłużenia.
More information: