Deck cranes - take a course and become an operator or maintainer
A crane is otherwise known as a crane, mounted on a vehicle and used to transport cargo within a certain area. A deck crane is one of the 8 types of crane that is used for work on ships. As its name suggests, it is used on decks, so it is mounted on a ship or floating oil rig. For this reason, this type of crane can also be found under the name ship's crane.
Of course, in order to be able to work with this machine, as with other types of cranes, it is necessary to obtain the appropriate authorisations, as they are subject to technical supervision. These authorisations can be obtained by means of an exam, which must be passed before an UDT commission. However, before you take this exam, you should have received the necessary training, both theoretical and practical, to acquire the knowledge and principles of working with cranes.
Our centre offers exam preparation courses and assists with enrolment formalities.
The theoretical training programme includes:
News about ships, types, use of cranes,
news about oil rigs,
Information about cranes, their use, types, construction,
technical documentation and all about technical supervision,
working with the equipment, how to operate the crane,
proper maintenance,
assessment of the technical condition of the machine,
occurrence, repair and prevention of defects,
health and safety regulations, first aid medical.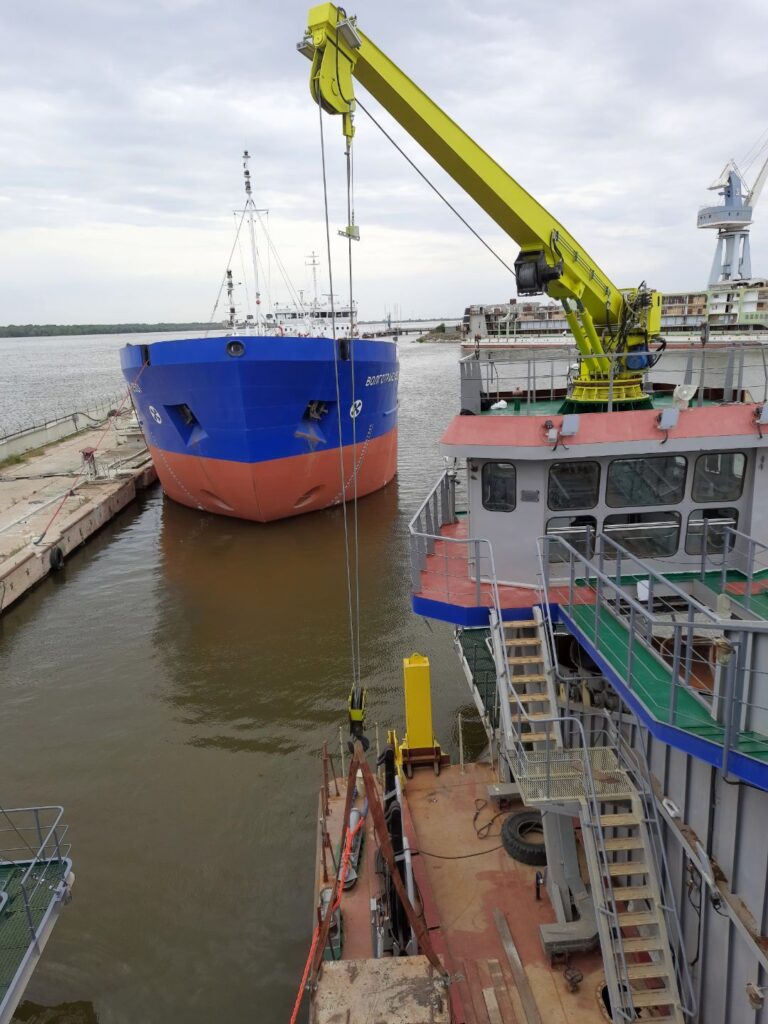 The theoretical course is followed by practical exercises where the participant applies the acquired knowledge when working with cranes, learns how to handle and deal with various situations, including emergencies.
What requirements must the trainee meet?
at least 18 years of age,
minimum basic education,
no health contraindications,
good mental health,
knowledge of the Polish language to be able to communicate and to take the examination. In case of lack of knowledge, the presence of a sworn translator is necessary.
Upon successful completion of the examination, the participant is qualified to work as an operator and/or maintenance person. One person can take both courses and be certified for both positions. The certificate is valid for 5 years from the date of passing the exam. If necessary, it can be renewed, which must be done no later than 3 months before the end of the certificate. A minimum of 3 years of professional work is a condition for application.
Wondering if it's worth doing the training?
Our staff are experienced people who have been working in the industry for many years. They are happy to share their knowledge, which is always up-to-date and in line with current legislation, and will properly prepare you for the exam so that you pass without stress on the first try.
It is a sought-after and well-paid profession. In addition, operators and maintainers of cranes (not only on-board cranes) with UDT qualifications can work not only in Poland, but also abroad throughout the European Union. Therefore, by completing a training course and gaining a licence afterwards, you have a wide range of employment opportunities, including the possibility of setting up your own business.
Do you have questions, are you unsure about something? Write or call us, we will be happy to help.
Questions and Answers
What is a deck crane?

It is a crane used for loading and unloading goods, mounted on board a ship or an offshore platform.
What will I learn at the training?

The theoretical knowledge on our courses includes, among other things: information about ships, cranes and oil rigs, the construction and use of cranes, technical data, health and safety regulations or dealing with dangerous situations.
With a licence, can I work with all cranes?

No, specific qualifications allow you to work with specific types of cranes. If you are qualified for deck cranes, you are only allowed to work with them.
More information: